SM Mall of Asia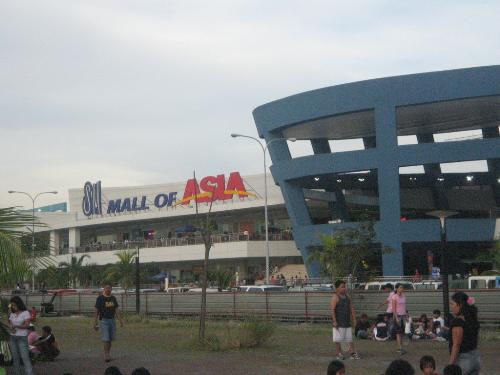 Philippines
May 23, 2007 9:06pm CST
one of the newest mall in the country is mall of asia. its the largest in the country and 7th in the world, and constructed in the reclamation area in roxas blvd.. i actually dont know how many stores the mall has but it consists of 4 buildings, including main mall and entertainment mall.. the main mall is the place to be for shopping and dining! local to intl brands can be found at this mall.. the entertainment mall is an open air complex facing manila bay! the mall also boasts imax theater, olympic sized ice skating rink. thank god the concrete post is missing in the middle (like that of sm megamall).. bonus is that you can enjoy the view of the famous manila bay sunset while dining. although you might get lost if its your first time to visit the mall with its gross floor area of more than 386 thousand.. so why not shop, dine and watch at MOA! but get those feet ready coz you have to walk (although the mall have trams)...
3 responses

• Philippines
24 May 07
I got to MOA every now and then. What I like about it best is that I can smoke almost everywhere! Lol. There are a lot of shops that cater to all sorts of people. Only problem is, it gets tiring after a while because of all the walking you have to do just to get from one store to another hehe!

• Philippines
24 May 07
there are a lot of things i like about MOA. variety of restaurants (thai to italian) and shops (from shoes to clothes) and other specialty stores.. it's just awesome!! and yes one gets tired strolling the entire mall.. but talk about shopping all you need in just one mall.. ;)

• Philippines
14 Jun 07
Wow! You have lots of informations about Mall of Asia? I have been there once on it's first week of opening. My sister invited us to go with them to see this new mall. It's really big, we're not able to see all of it's stuff in it. We feel very tired after walking for about four hours. Maybe next time we can take another tour in it, lol!

• Philippines
14 Jun 07
yup, mall of asia is really a biigg mall! youll get tired easily if you're not quite used to walking. i love the mall since its really convenient to shop here, with all known brands found in the mall. and as ive said not to mention the great manila bay sunset!

• Philippines
15 Jun 07
Yeah..I've been there last year and I can't stroll around it in just 1 day...whewww!..what a big mall. I just got aching legs..LOL.. I want to go back if I have travel again. :)