in bollywood -which hero has good body bildup

India
11 responses

• India
6 Aug 07
I think akshay kumar has the best physique......everyone else has taken some supplements to build those muscles ...but akshay has naturally good physique.... u must be surprised to know that he doesn't even workout in gym......his physique is the result of yoga and martial arts.... i guess being muscular is not essential.......u should have stamina.....and that is what akshay kumar has..... he has amazing fitness level which helps him in all has daredevil stunts!!!!....

• Pakistan
5 Aug 07
I think Hrithik Roshan then Salman Khan. What you think ?

• India
23 Jul 07
I think Salman has the best body. After that John and Hritik comes. You didn't mention name of Uday Chopra here. Upen Patel, Aryan Vaidya are the other names who have nice body.

• India
20 Jun 07
I think it is hrithik roshan.He was amazing from the first movie itself.My second vote will go to the old lion salman.He still maintains a good body eventhough the show is less common in the new movies which has come out.

•
27 May 07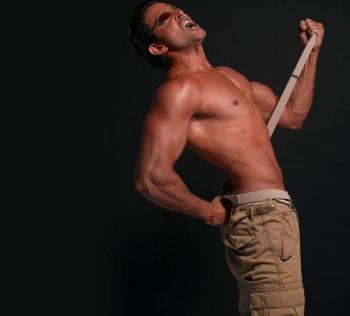 I think Hrithik Roshan wins hands down over all of the others at the moment. He looked fine in Krrish and in Dhoom 2, not that I find him particularly attractive but i can't deny he has the most muscular body out of all of the current stars.

• India
25 May 07
It's hrithik roshan , because he do lot of exercise with his body

• Portugal
2 Jan 08
My vote will go for Salman Khan because he maintained his body very well and if you guys dont know let me remind you HRITHICK ask Salman to give him some tips to get a body like Salman for "DHOOM 2" so chill & PEACE OUT! SALMAN ROCKS!

• India
3 Sep 07
I think Hrithik Roshan has one of the most build body. John Abraham, Salman Khan, Sunil Shetty, Arjun Rampal, etc also has a very good body. It is nice to know that the most of the bollywood actors are also in good health and also building their body.

• India
24 May 07
i think u missed one, Amitabh Bachchan, lol He must be having good body, thats why making films like Nishabd and ChiniKum, hahahaha