hangaroo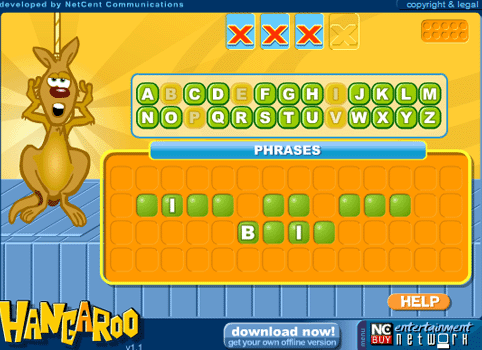 Italy
9 responses

• United States
25 May 07
I used to play it all the time. I got a new computer and forgot to write it down and found more games to take it's place. My newest obsession is Text Twist. I totally rock that one. I am also addicted to ItsYourTurn.com. There are so many cool games there. You should check it out.

• Philippines
25 May 07
i love this game! i have it in my computer.. its quite fun and at least im learning new trivia every time i play... i remember one time i made an excel file containing almost all questions.. too bad my computer crashed.. :( so what category do you like the most/least? for me constellations, with just 5 or less letters.. then i love the tv, movies and song/artist categories...

• India
25 May 07
no, haven't heard of this game anywhere. Is it some kind of first person shooting or like tetris??

• United Arab Emirates
28 May 07
Ya it's a good one, I used to play it and now you reminded me so I'll play it again:)



• Philippines
25 May 07

i like it also..but I'm not good at it because often the kangaroo is hanged because I could not get the word/phrase

• Philippines
25 May 07
yeah.. It's an addicting game. =) I also installed it into my PC. =)