It's getting worse, folks!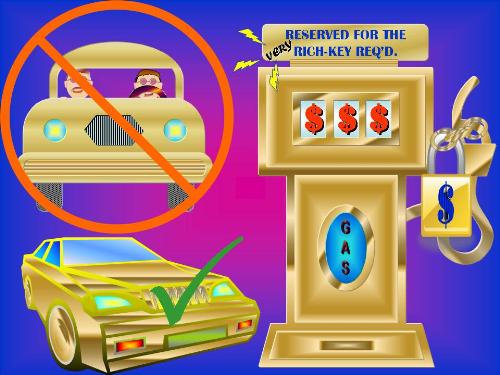 United States
May 25, 2007 7:28pm CST
OK, gas prices are now "comfortably" settling in over the $3.00 per gallon mark. It's almost up to $3.30 in our area. Funny how fast it went up for the long holiday weekend! Let's see if it drops back a bit afterward. Anyway, I'm still pushing the June 16th start for the monthly DRIVING BOYCOTT. Remember, every 3rd Saturday of each month; DO NOT DRIVE. Or, if Saturday is not feasible, see if you can pick another day instead. It's the only way anyone is going to hear the message that we're tired of it. What do you say? Are we in this together?
1 response

• Australia
26 May 07
You should live here. Gas prices are $1.40 a litre which is approximately the size of a largish coke bottle. Shouldn't we be working at alternatives to petro chemical products and petrol in particular. Have a look at the pollution, the rates of illnessess climbing, the hole in the ozone layer. What a legacy we have left our children.

• United States
26 May 07
Yeah...I know Americans (me included) have been "spoiled" in the last decade(s). Looks like Big Oil is taking care of that though. We'll be right up there with you soon, I'm guessing! Sounds like you're right around $5.60+/- per gallon; more than $2.00 higher than ours. I never really understood why Americans get gas so much cheaper than much of the rest of the world...I know we have a number of our own oil sources and refineries, and maybe most other countries don't, I guess?! Anyway...you're right of course! We should be working MUCH harder on alternatives, in my opinion. So sad to think that "progress" in that area may be 'thwarted' by the Big Oil money, etc...but it happens all too often like that. And, you're right abouit the pollution, too. And, there's a myriad of other, similarly damaging "poisons" we're subjected to every day that help keep "Big Pharma" profits growing, too. If you're interested in that sort of thing (it can be frustrating!), visit my blog at http://w1z11dom.blogspot.com/ for more info on how many ways people are being made "sick", thus needing pharmaceuticals to make them "well". I believe the ones who've put the "poisons" in our air, water, foods, etc. should be responsible for paying the medical bills to make us better. Enjoy...and thanks for your post.