Who Has The Better Steak? Texas Roadhouse or Outback Steakhouse?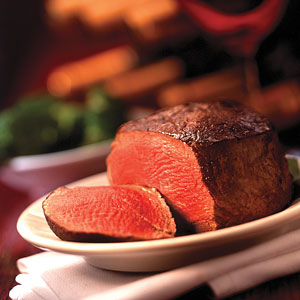 United States
May 26, 2007 12:53am CST
In my opinion, Outback Steakhouse served me the best steak I've ever eaten in 23 years of life. Not saying the stead I had at Texas Roadhouse was bad, it just wasn't as good. I have yet to visit Longhorn Steakhouse so I cannot give an opinion on their steaks just yet, but out of the two above mentioned steakhouses, my vote goes to Outback Steakhouse. What do you think? Have you have a steak better and want to share? Do tell!
6 responses

• Canada
26 May 07
I wouldn't know, as I haven't been to either. They don't have those places in Canada. The best steak in the world, in my opinion, are the rare ones that my Dad BBQs for me when I go to visit him up at the cottage. He either does them that way, or on the grill over a wood fire in the backyard.

• United States
31 May 07
Well for one thing when I go to either place I get the grilled chicken smootherd with all sorts of cheeses.. Mmmm.. I would have to say though I prefer Texas over Outback.. Both are very good Chicken makers and the sides are rather good too. Just asked my boyfriend PAT who picked... and he is a steak lover Texas!.. Soo I would have to saaaaay.. TEXAS has yet another vote.

• United States
1 Jun 07
your right on the chicken...once at roadhouse, I ate a whole chicken...my friends could not believe that I ate the WHOLE, thing...haha

• United States
1 Jun 07
Chicken is good for you too.. I think.. But good for you eating that whole thing.. If I don't eat all mine I get weird looks like.. "Woah, this is the 1st time she did not finish a meal.".. Mmm I think we are going there tonight I can't wait.. Maybe I will try the steak and I can actually join this conversation.

• United States
2 Jun 07
Between the two places mentioned, I like the steak better at Outback better than at Texas Roadhouse. Now who has the better bread?! I like the bread rolls served at Texas Roadhouse over the bread and butter served at Outback. Outside of these two steakhouses, the best steak I've had so far was at Morton's Steakhouse. (Honorable mention goes to the Steak Maui at J. Alexanders, and steak at Kona Grill is also good)

• United States
1 Jun 07
I am not really big on steaks, but I would have to go with the texas roadhouse. I love the atmosphere better at the roadhouse and I love their sweet potatoes...very yummy

• United States
30 May 07
I have actually never been to Texas Roadhouse, so I guess I can't say much about that place, but I do really like Outback Steakhouse. I think they have good steak, and their other foods are also really great! I don't go there too often, but I like it for special occasions. :)

• United States
27 May 07
I have never been to the Outback yet. But I have been to both Texas Roadhouse and Longhorn Steakhouse. Texas Roadhouse is so much better in my opinion. The steak is a better cut and has flavor from beyond this world. Longhorn Steakhouse has good steak and good flavor but between those two there is no comparison for me. Now I am hungry for steak. hmmm LOL