First Kiss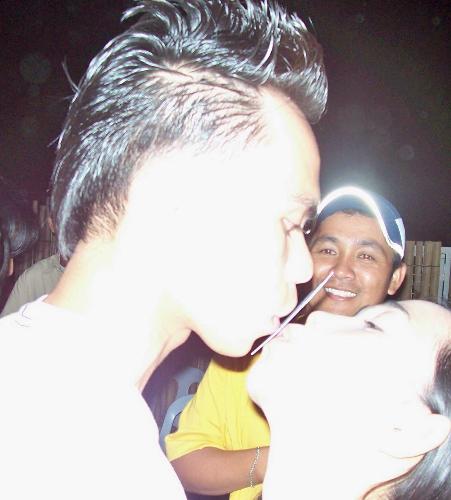 Philippines
May 26, 2007 3:40am CST
Many say that we could never forget our first kiss. So I want to know is how old were you when you had your first kiss? What makes it memorable for you? As for me, yeah I still remember...hazily. LOL! I had my first kiss at 17 and what made it memorable for me was that it was the sloppiest kiss I ever had. All I remember thinking at that time was that there was nothing great about it and it made me wonder why a lot of people like.
6 responses

• France
26 May 07
it was very great moment when i kissed my cousin that was for the first time it was so romantic and it was in a bath room.. she went to bath room for hand wash and i enter after her then locked the door she asked what i said what? she smile and said what i already said so many time *i love you* she said me too and i started kissing her and still feel the softness of her lips that was a fantastic moment of my life and now she is my fiancee and living is france i really miss her now =( we gona be married after a year or so =/

• Philippines
26 May 07
Well my first kiss of course with my first gf it just happen when we were in a vacation with our friends. We were one time together in a room, and it just happen, I kissed her and it feels good, that after that moment, when nobody with us we always kiss... thats it hmmm

• Philippines
26 May 07
Yeah, when talking about our first kiss it's really a big smile on us remembering those days from the past :-) As I remember still, I had my first kiss same age like you have yours, LOL...I was 17 then also and it wasn't for me a very memorable experience coz there's nothing special feelings there but just only a friendly smack kiss from a friend, LOL :-)

• Saint Vincent And The Grenadines
26 May 07
my first kiss was at a party me n my friends did, i was totally intoxicated, but the kiss was nice really...but hell it sucks being the man in those occasions, too embarassing!! hehehe

• Denmark
26 May 07
I've forgotten my first kiss :-D Guess it means more to girls than to boys.

• Philippines
26 May 07
I had my first kiss at around 7 years old with my childhood friend. It's memorable because I was forced to do it =( We were playing hide and seek with our other playmates and we hid together..that's where he asked if he could kiss me. I refused but he forced me to =(

• Philippines
26 May 07
Very funny and...cute! I wonder just what you did afterwards. Thanks for sharing!

• Philippines
26 May 07
Lol just like normal kids, we didn't talk about it afterwards. We didn't even feel embarrassed when we were together. I guess that's coz we were really comfortable with each other. Heck, my yaya even bathes us togeher!

• Philippines
26 May 07
Well my 4-year old niece had a different reaction when her cousin kissed her. She really shouted that somebody kissed her and made her so angry. LOL! Now as to your taking baths together, I bet it now embarass you both now that you are grown ups to recall such things. he he he! Happy postings!