Are you a milk addict?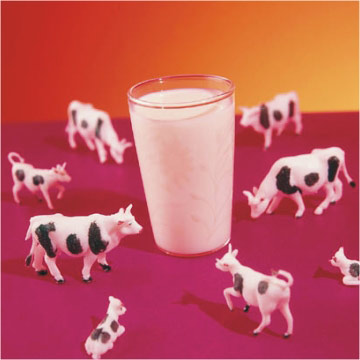 India
5 responses

• United States
14 Jul 07
I don't think that I am a milk addict at all! Yes, there are times that I crave milk, and other times that is what I would like to drink with some foods. But, I am one of those people that just doesn't really like milk! :D I like it in cereal....I don't like drinking the milk afterward though. I like it when eating a PB&J or Donuts...but only when I am eating it! :D

• United States
9 Jun 07
Oh yes! I am so glad that you asked! I am so addicted, there isn't a day that I can not go without a nice tall glass! My addiction has gotten so bad, I have to keep a cow in my backyard! And forget homogenizing! I can drink it straight from the cow!

• United States
9 Jun 07
Hey! That beats eating cottage cheese made in someone's shed! ha ha

• United States
14 Jul 07
Do you still drink milk every day now? Or would you still like to drink milk everyday now? Chocolate cows are my favorite cows. They give you chocolate milk, and you don't have to worry about stirring it up and scrapping the sides of chocolate! haha :D

• India
29 May 07
NO, NO, NO.I just hate milk.However when I was younger I was really fond of it, I could have it anytime of the day.But now the smell of milk makes me feel like throwing up.Sometimes a litthe stawberry or milk shake does however work!

• United States
29 May 07
I definitely don't drink milk as much as I probably should, only when I eat cereal. I only drink soy milk since some sicknesses (like Diabetes in children) have been linked to regular milk. I do love it though, goes great with cookies and dessert in general!:)