What's Growing Wild In Your Backyard?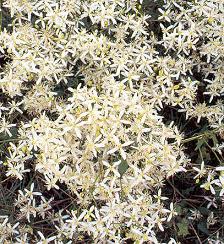 United States
May 28, 2007 11:57pm CST
During a backyard barbecue at a relative's new house, I took a stroll with my niece and showed her the different plants growing wild in her Aunt's backyard. It's quite surprising that kids really don't know the names of the very plants that surround them, and can barely identify poison ivy when they see it. My niece said, "Comes in threes, don't touch these!" Well, she's right, poison ivy leaves do come in threes. But every plant that she saw that appeared to have a three-leaf stalk, she pointed to and said,"Poison ivy!" No one ever bothered to tell her that they are glossy-leafed, that they bear white berries, and that they turn color in the Fall. So I walked her through the yard, pointing to all the various things growing in the lawn and on the fence-line. There were several varieties of Clover, some Giant Buttercups, Wild Strawberry, Poke, Dandelion, Chickweed, Traveler's Joy, Bittersweet, Woody Nightshade, Japanese Maple, and some really big Squaw vines. When I mentioned to her that several of these are edible, even my Mother gasped and said that I should be writing a website about it. Sometimes I wonder--to the ordinary person, they're all weeds, aren't they? They have no idea that most of the clovers, the flowers, leaves, and shoots of some of these plants are eaten with great gusto all over the wold! It seems that only in the USA do we tread on these plants, weed whack them out of existence, or put down chemicals to destroy perfectly edible plants. Do you know what's growing in your backyard? Do you know which is poisonous, and which is edible?
2 responses

• United States
29 May 07
Not a clue. But then again, there's not a whole lot back there any more, the trees have killed what yard I had in most of it & there are just some scraggaly weeds & thorny vines back there. (And the only clover I've ever seen in my yard has there yellow flowers & produced big nasty stickers.) Then there are the "wild carrots" that produce the "beggers lice" stickers (soft, but sticks to every thing.)

• United States
29 May 07
I admit that I don't know what all of the plants/weeds are that are growing in my backyard, although I do know that some of them are edible. We have some clovers in our yard too, as well as strawberries, raspberries, dandelions, and nightshade. There are many more that I don't know what are including many bushes and small trees. We have several fire cherry trees that have sprouted up over the years as well.