Do you know?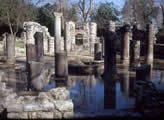 May 29, 2007 2:26am CST
A friend of mine has send me an email. He wrote to me that he was very happy 'cause President Bush will go in Albania in 10 of June. This friend of mine is from Kosova and he was so happy 'cause Bush has done a lot about Kosova people. For this occasion my friend will go to Albania to be there as one of many people from Kosova that will be there this date. Do you know anything about this?Have you ever been in a ceremonia like this?
1 response

•
14 Jun 07
No I didn't know about this, but I am glad to hear he is doing something positive for someone other than us Americans. I never been to a ceremony like that, but if we had one here for him, I would be sure to bring some rotten tomatoes to toss, LOL.

•
15 Jun 07
why is he so hated by americans? Maybe for the war in afganistan, or is onether reason?

•
19 Jul 07
I'm not american and I've never been there and the things you're telling me I didn't know about. There to many reason for american people from your facts that must hate Bush so much. Ok now I know this thank to you.I'm so sorry about your brother. I wish he would be better in the future.