Fashion show destroys Indian culture? IS IT TRUE????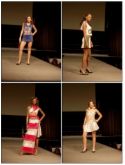 India
May 29, 2007 8:31am CST
In metro cities, everyday fashion shows are held.Youngsters flock this fashion shows inorder to get new dress code.Fashion show is also a business.Seeing this fashion shows youngsters change themselves.First they stich new dress as they have seen in this shows and then dressing this new dress they go to club or other public places.These guys dont respect value of the Indian culture as many people say .They dont listen to their parents also. I think those dresses displayed in fashion shows are mostly not suitable for day today wearing purpose.Am i right ???? Most commonly asked by elder people of the society is whether Indian culture get spoiled due to this kind of shows ? what do you feel?
5 responses

• Delhi, India
30 May 07
Yes, a good point made. It certainly effects our culture. And it is very true that dresses which are worn by the models are only for pomp and show...these dresses cannot be bought or worn by an average person.

• India
27 Feb 08
This is the most hilarious argumenty I have ever heard about fashion shows. What is a fashion show dear? Do you have any idea? You can not be like an ostrich burying your head in the sand to avoid wind.Hindu culture was the most adaptable and forward culture at one time and thanks to this Thakre brigade and so called Hindu rakshaks we are the most backward thinking people right now. Its never our abilities that define us but the choices we make -make us who we are. Frankly the youngsters have revolted against their parents in all generations and if they stop doing so the whole society will crumble under its own ideals.The flowing river never gathers moss my dear-the still wter always goes stale-choice is yours.

• India
27 Feb 08
Its a very old discussion it seems. still I am replying to this. I think its true that fashion shows are related o business only. its also true that we can't wear those dresses in day to day life. But society is changing. so elders must not always think its against our cultures.

• India
21 Feb 08
To some extent ur opinion is right.New trenz in fashion should be acceptable according to the culture.

• India
15 Jun 07
what is the Indian culture's dress do you remember. Dhoti and kurta and cholies for women. I think the dresses in the past were more revealing than what they are now. Sarees were worn only by people of Bengal and suits were dresses for Punjabies. Marathies wore differnetly and rajastahni people wore differently and delhi and UP people wore differnet dresses. If the our parents and theior parents were obedient enough we would still be wearing those not the suits and ties which those crying for Indian culture (who wear pants and suits) wear. fashion shows is not just for the dresses its the fabric as well as prints and falls and so many other things. Its a very high paying industry. India is in debt of IMF and how do you think we are going to pay it back by farming. we have to progress and make a place in Internmational market for ourselves in every field. farming also I do not say less revenue genrating. We can not neglect it but can not even solely rely on it. fashion industry, films, and so many fields we have and we have to advance in. You can not close your eyes and sit like an ostrich. Which is what exactyly those crying for Indian culture want us to do. If you let them they will push us back in to the sixteenth century and will rule like talibani's. Seventy percent of India is young and we have to shed our stupid thoughts and surge forward,if we want to create a niche for ourselves in global market.