in the name of the father, the son, and the holy spirit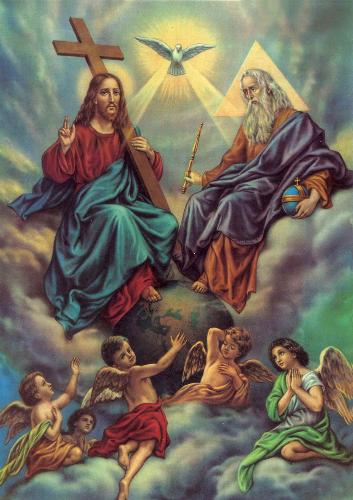 Philippines
May 30, 2007 9:28am CST
St. Augustine once said to a boy that "It would be easier to transfer all the waters in the ocean into a little hollow than to understand the mystery of the Holy Trinity." I have always been drawn to study the Holy Trinity. I believe in the Holy Trinity. What are your ideas on this?
2 responses

• United States
30 May 07
Yes, I believe in the Holy Spirit. It is an awesome experience to experience the Holy Spirit within you. I have experienced on many occassions. The church I go to has a banner hanging in it that says Welcome Holy Spirit. And I defintely can feel the Power of the Holy Spirit's presence there.

• Philippines
7 Jun 07
Hi, terri,sorry for the late reply. Been busy jumpstarting my small business. YES, isn't it awesome experiencing the Holy Spirit always working in our lives every moment! I call upon the Holy Spirit whenever I am trying to DISCERN things, when I have to choose jobs for example, or when I have a decision to make, the Holy Spirit always guides me to know the will of God for me. As of the moment, I am discerning whether to leave abroad (for the U.S.) coz a friend said there are openings for agricultural workers either in California or Florida, but at my age, I'm a little bit scared to go abroad again. I've been praying for the Holy Spirit to enlighten me.

• United States
31 May 07
I was raised Catholic as a child. And I was just a kid so alot of it went over my head. But I always thought of them as separate. Now as an adult I see them more as one body each one needing the other to embody all that is good. I'm not Catholic anymore.