Do you have a favorite oil painting artist?

United States
3 responses

• United States
31 May 07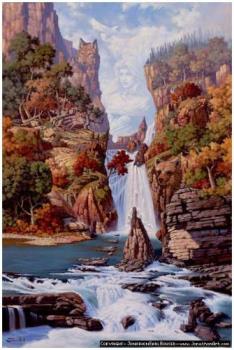 Well among the classics I agree Leonardo Da Vinci is supreme. He was fantastic. Now among current artists my favorite is Jonathan Earl Bowser. He does some fabulous work. If you have not seen it you can do so at his website: http://www.jonathonart.com/intro.html But I've also included an image below of his work. I find his very fascinating to look at.


• United States
31 May 07
That is one of my favorites by him. I'm glad you liked it. It's under the "Bradford" section on his site. The other paintings up there are beautiful as well. He has some real talent. I'd love to own some of his work.

• United States
31 May 07
He has some others like that in the Bradford area. If you get a chance take a look through his site. He has some amazing art work.


• United States
31 May 07
Mine is Van Gogh.I art that is so powerful that is comes off the canvas and slaps you across the face and Vincent's work does that to me.My favorite is Wheat Field With Crows.It has such brilliant colors.

• United States
31 May 07
Absolutely! How could I forget Van Gogh? Brilliant the way he put his emotions into his paintings, I think. I always liked the one of his room, you know, the one above the bar, or even the bar scene. and who can forget starry nights? :)

• United States
1 Jun 07
Oh yes. Have you seen the movie Lust For Life? All of the paintings we are talking about are in the film.

• Germany
31 May 07
My favorite is Gerhard Merford. A well known 20th century painter in Europe. Most paintings are closeups of persons, ducklings or flowers. My parents have a beautiful painting in their livingroom since the fiftieth of the last century. I tried to buy more paintings at ebay, but the price was too high.