The one thing you must have?!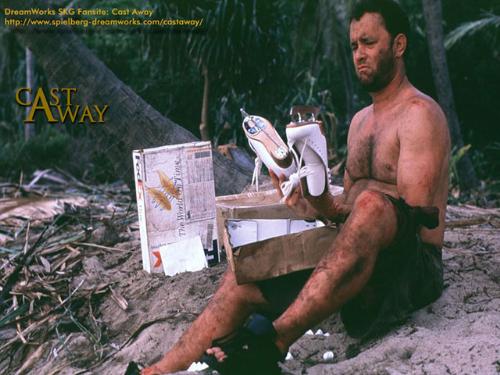 United States
2 responses

• Pakistan
2 Jun 07
LOL! I cheated on this JessyBlue, and read the other two responses:-) I can say that I'll probably manage all those things with the already available material on island as mr Tom Hanks did. Fire with the firestone, and all other stuff related to fire. I don't need tissues either, water has more cleansing ability than tissue:-). I will make very soft and comfortable shoes with leaves. So what actually I'll take there with me!! I would take along a picture of my wife and my son, together. It's hard for me to live without the possibility of seeing them. I'll talk to them often. Telling them about my experiences and the whole day's activities. Second would be a pair of writing pad and pencil (there is no use of pad without a pencil or i'll make one from the island stuff:-)) I'll write my experiences and characteristics of animals and plants and whatever sea species I can find there. Then I'll read all that to my wife and son. But I am afraid that I can't stay there for long. Trust me, my wife can find me anywhere, lol, and as she too can't live without me so she will manage to trace me somehow and take me out of that Island. I am really sorry I can't live there forever, my wife can't let it happen=P and guess what, after coming out of that island, My writing will be a best seller, giving me enough to compensate for the economic loss I suffered being there:-)

• United States
2 Jun 07
WOW, LOL Now that was well thought out! I think you would do great on a deserted island and make the most out of your experience....and yeah if your wife is that determined I believe you are right she would find you.

• Pakistan
2 Jun 07
I really love an adventurous life, JessyBlue. Though not exactly deserted but I have two times experienced and tasted at least 50 % of that type of life during my Job before starting my doctorate studies, first time for 16 days and the second time for 9 days. Don't ask me what type of water I drank, what food I took and how I managed my toilette otherwise You will feel like vomiting:-) Overall those were great experiences and I am sure that I can survive longer than an average human.

• United States
3 Jun 07
Then I can understand why your response was so well thought out, because you have pretty much been in that kind of situation before. Thanks for sharing!


• Canada
2 Jun 07
Assuming the deserted island would have water, plants and animals I would take a pack of waterproof matches so I could make a fire. If I had fire I could build a ring of fire to protect myself from wild animals. I could also build a kiln to make some pottery and bricks for a house and a wall around by little compound. With the bricks I could build storage facilities to store the food I would gather and dry and I could build a hearth to cook my food and make herbal tea from edible plants. If there was ore on the island I could build a deep hot pit and melt it to make utensils such a knives and weapons to hunt the animals for food and fish hooks for fishing. As for the second item I am torn. It would either be Norton's anthology of English literature or the bible. Final choice would be the bible because there are stories, beautiful prose, poetry, mystery, advice and prayers. It would keep me occupied in what little leasure time I would have. Presumably I would have to spend most of my time hunting and gathering.

• United States
2 Jun 07
The matches though wouldn't last a lifetime. But wow, if I were to ever get stranded on a deserved island, it would be nice to find you there. You definitely could survive!!!!