I only paid three dollars!!!!!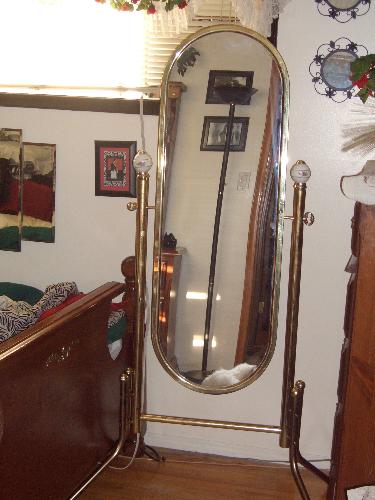 Canada
5 responses

• United States
5 Jun 07
That was a really good deal. I just bought an old wooden bike for my son this passed week and paid $2.00 for it. I came home and started to search on the internet to see if I could find out how much it was if I would have bought it from the store. Turns out you cant buy them any more and I also found out that the little bike was made in the late 1800 early 1900 and is worth any where from 1,000.00 to 2,000.00. I was shocked.

• Canada
4 Jun 07
You really did do a great deal on this mirror. I would have never sold it for 3.00 that was a steal, good for you. It's actually the nicest mirror I have seen. That really was a buy and if you decided to sell it you will never have a hard time finding an owner I am sure.


• Germany
3 Jun 07
You are very lucky, your mirror looks great. Too bad, where I live there are not any garage sales. They are unknown. People offer used items in newspapers or offer them at e-bay. But I have not run into a garage sale where I live. I, too, would like to buy things this way.

• United States
5 Jun 07
fantastic buy on the mirror! I paid 75.00 nineteen years ago for mine. I bought it because I always imagined wedding pictures of getting my veil placed or whathaveyou while looking into a cheval(sp) mirror such as this. I have not been to a garage sale yet this year. I have so much stuff that I need to get rid of, it has been a bit of a discipline for me to avoid the sales! I love a good bargain. my husband once bought a stuffed animal for around 50cents that we sold on ebay for 73.00 another toy (a puppet) he found for 25 cents sold for $48 it was a steif! he really has a knack for finding treasures like that.