The Fountain... confused a little...

United States
June 3, 2007 4:53pm CST
anyone seen The Fountain, with Hugh Jackman in it? I watched it last nite and have to say.. im a little confused .. it was an awesome movie .. i loved it, but at the end of it i was a little confused.. it was greatly written and artistically done... kinda reminded me of What Dreams May Come.. but i was left with a couple questions.. was the moments when Tommy was stuck in the star with the tree.. was that what he was imagining in his head? I realize the part where he was a conquistador was going on in Izzi's book.. but i was just a little confused... anyone know what i am trying to say or know how to put it in lamens terms for me? its a great movie!! i reccomend it... i just wish i had followed it a little bit better lol ..
2 responses

• India
30 Nov 12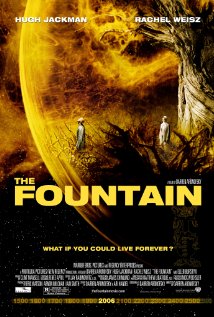 I have also seen the movie The Fountain starring Hugh Jackman and Rachel Weisz, I also found this movie so confusing that I hated this movie. Sometimes movies like this can take the interest away from the movie, I don't know what the writer and director was trying to tell through the movie but it does get boring ....

• United States
3 Jun 07
I have seen it and the three story lines are supposed to be three different lives that they have spent together. One in the past as featured in Izzi's book, one in the present with him as a doctor, and one in the future where he is an astronaut. Where I get confused is, is Izzi the tree in the future life or just absent? And is it the astronaut remembering the other two lives? It is an interesting film about accepting loss and getting on with your life after loss. It also has a good message of live for the now. I really enjoyed the film and plan to add it to my DVD collection.