Are you in a flood risk area?

Canada
June 3, 2007 11:14pm CST
Here in my particular area of Vancouver, we're not at direct threat of flooding. However, many other parts of Vancouver, and some areas further north are on flood alert. The reason for this is the snow pack on the mountains. Over the winter, we had record amounts of snowfall, with one ski resort reporting an unprecedented 27 feet of snow! We had an unusually cool Spring, and now, all of a sudden, our temperatures have soared, and along with the high temperatures, has come snow melting very quickly. I have a friend who lives up north in an area thats under a Flood Warning. Their peak time for flooding is tonight through tomorrow. Here in Vancouver, our river levels are rising rapidly, and our flood warnings are already in effect, with the peak times expected around the 5th to the 9th of June. My partner's place of employment had a meeting to discuss what would happen if flooding became imminent. My partner is one of a number of employees who wouldn't be able to make it in to work should flooding occur, because the bridges would be cut off by the swollen flood waters. His employer did state that should they not be able to make it in, they would still be paid for it, because its a circumstance beyond anyone's control. Just thinking about the consequences is pretty scary though. We may not be at risk of flooding itself, but grocery stores in the area won't be getting deliveries, they'll run out of food very quickly, with people going crazy and totally buying way too much food. There's a chance also that Gas may run low, because the Gas stations won't be able to take deliveries. Do you live in a flood risk area? How do you prepare for imminent floods? Do you evacuate, or do you prefer to wait and see what happens? How do you handle it?
11 responses

• Singapore
4 Jun 07
In Singapore, we are quite free of natural disasters. But hmm, floods are not really natural disasters, or are they? Anyway, our drainage infrastructure here is quite superb. But we have occasional flash floods at some areas occasionally. It is not a big problem usually but we have serious cases where lives were lost (I think), and millions of dollars of properties/assets destroyed. Where I live, I don't think this is an issue.

• Canada
4 Jun 07
You're lucky Wiz. As I stated, we're not at direct risk of the waters because we're high enough up and far enough away from the river that it won't affect us. But there are other indirect risks associated with it. Where I walk is by the River, and so if it floods, I shall have to find alternative routes for a little while till the waters recede. We're also right on the coast, so of course, with the rising sea levels, we're at risk still, though that probably won't be in our lifetime.

• Singapore
5 Jun 07
Singapore is not all good, but yes, I am lucky for this. :P


• Canada
6 Jun 07
Actually, it looks like it's become a reality. Northern BC areas started flooding yesterday, and today the rivers are still rising. However, they're rising now because of terribly heavy rainfall. The temperatures have cooled down, so the snow in the interior basins has stopped melting. Unfortunately, there's a lot still to melt, and they're saying we're at constant risk till the snow has melted properly. *Sigh* This means we're at risk till at least the end of June.

• India
5 Jun 07
My native home is in a flood risk area. But I love floods. We never evacuated. Water of the nearby river overflowed through my room even. The rain were over. It was full moon day, I just opened the windows and doors of the room and kept laid in my bed all through the night. seeing the flood, feeling the flood, touching the flood, smelling it.. that was an unforgettable experience. In day time I took my boat and helped other evacuating people to reach their safer places.. helping them throughout... Floods gave me wonderful memories... Thank you Rugrat for asking.

• Canada
5 Jun 07
Wow, that's unbelievable!! You actually laid in bed as your room was flooding?? That would have scared the HELL out of me LOL. I think I'm very lucky to not be at direct risk. we've seen some of the homes on the Riverbanks. They're all sandbagged and hoping for the best. I know that should they become flooded, it'll cost a LOT of money to put right! I'm glad I was able to stir up some good memories for you with this discussion. :o)

• India
6 Jun 07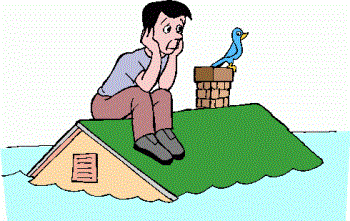 Believe me. It is true. I won't lie. The one thing I feared was reptiles and ants. In floods they will lose their burrows and move to find out what's up in the water. I have seen heaps of ants flowing in water, with fear though. Yes, your post took me to my memories.. Thank you Rugrat.

• United States
6 Jun 07
Yes, I am in a flood risk area. Luckily floods are rare around here. The last bad flood was a about 13 years ago and about 2 years before I moved into my current home. This home has some water damage from it, though it was fixed before moving in. I'm on very flat land near Sacramento. We get HEAVY rain as well as the run off from the mountains. I didn't have to evacuate last time as I lived on higher ground then, and I don't know what my family and I would do if/when another flood happens.

• Canada
6 Jun 07
I feel for you sacmom. It's always a scary thing when you have a risk such as this. I've been listening to people who have already evacuated from the flood plains on The Lower mainland. They talk of their fear that they'll come back and have nothing left. I feel that it's a good idea to have a plan in place for if a flood threat ever becomes an issue. That way, you can do what needs to be done calmly and in a rational manner. then, if you DO have to evacuate, you'll know exactly what you're doing.


• Canada
6 Jun 07
I remember actually when I lived with my parents as a teenager, they lived on a brand new housing estate, at the top of a hill. At the bottom of the estate was a field, and then the River Dearne. That river burst it's banks one fall. The water crept closer to the homes at the bottom of the estate every hour. Finally it reached their back gardens and then their homes. They all sustained water damage and it cost their insurance companies thousands of pounds to put right. The field for weeks after was a real mess, and everything smelled terrible. I'm glad we don't have that issue here! We're far enough away!

• Philippines
5 Jun 07
Hi lady. I'm living in an urban city and fortunately, I don't need to deal with flood issue here. The only problem I have to face are the puddles formed whenever there is a heavy downpour. Otherwise, its perfectly safe here. When a strong typhoon hit our city, there is the usual black out. But life still goes on normally.

• Canada
5 Jun 07
You're lucky bunny lol. While we're not at direct risk, there's always the indirect problems that come with things such as floods and suchlike. My only hope is that it's not so bad that the Grocery stores aren't able to receive deliveries. To get out of our area, we have to cross at least ONE bridge, and the way things stand now, all of those bridges are at direct risk of being partially under water.

• China
4 Jun 07
There's no river running across my province so there's no flood till now...hehe

• India
4 Jun 07
i am not in a flood risk area. but i stay on the sea shore hence it is prone to rising level of the sea water due to global warming.

• Canada
4 Jun 07
I too live right on the coast, so I share your concern about the rising sea levels. It's not something that is due to happen in our lifetime, though it MIGHT affect our grandkids. I'm glad right now though that we're not in the direct path of the rivers lol.


• Canada
4 Jun 07
Yes, it rains a lot here in late fall, winter, and early spring. Our Summers and early Fall is the only time it really gets nice. Unfortunately, due to that, the snow starts to melt quickly and the rivers and dams can't handle the overflow. This is the first time since the 70's that there's been such a risk of flooding. We're all on high alert, and homes that are on the riverbank have been sandbagged.

• United States
4 Jun 07
Here in New Mexico you wouldn't think with it being so dry that flooding would ever be an issue. That is not the case. When it does decide to rain here it often comes down very fast and hard. This fast rain is not absorbed quickly enough in our arrid land and it causes flash flooding. It is very fast moving and dangerous to drive through. It does recede very quickly (usually within a few hours) but it can make getting around town a pain in the butt for awhile.

• Canada
4 Jun 07
I've seen flash flooding before and it looks terribly frightening! I'm glad that it clears up within a few hours though! With the flooding they're talking about here, it could last for a week or longer. Specially if the weather stays hot, the snow will continue to melt at a fast pace. Just to add to the problems, we had storms last night, and it's raining again today. Ugh.

• Australia
7 Jun 07
Where's your beaut avatar? I loved it. :( Yes, we are in a flood zone here. There was a flood in 2004 and no-one could go anywhere. We have fuel but the little shop hardly has anything - if we can't get out then no-one can get in. Apparently they had food drops. There were large bundles of food dropped by helicopters and distributed to the townsfolk and farms in outlying areas. MosT of the folk around here have trucks or 4WD vehicles but the roads are still impassable. I well remember my first trip out here to view my home. It's 60klms from the next town and the road is pretty much straight all the way. There are about 8 creek crossings and also the same number of causeways and 12 klms of dirt road. That first trip seemed endless and I also broke down. I noticed flood warning signs all the way along the road and indicators to show the depth of the water. I spent a couple of hours here and as I was about to leave it started to pour. And it kept on pouring ...hard. I was terrified as I drove back along this road that was then carrying about a foot of water most of the way, I was driving fast and don't know how I stayed on the road particularly the dirt part, I kept thinking I would be swept away if I didn't get to the next town. It was the longest and scariest trip I've ever done. It hasn't rained that much (or even a fraction) since I moved in and that was 18 months ago. LOL. My house is right on the highest point and I have 18 inch piers so I won't be getting wet anytime soon. I might have to offer to give some people a bed though because a few houses get very soggy apparently.