Do you eat vegetarian food?

Philippines
10 responses

• Philippines
4 Jun 08
wow that is new to me and to think that you live in the Philippines. I admire your family for being loyal for what food lifestyle you have chosen, being a vegetarian in the Philippines is a bit hard since both meat and vegetables are expensive. I grew up in a family who is a meat eater but right now I've been trying to be one of you. I haven't eat meat for two years but my body can't adopt to not eating fish meat. So right now, I don't eat pork, beef or chicken or any other meat but only fish meat.

• Philippines
26 May 08
I'm not vegetarian since birth but recently i decided to be one so yes i eat vegetarian food. Although sometimes i find it bland but i'm getting used to it. Thank goodness for vegetarain restaurants, it makes me appreciate more the vegetarian way.

• Philippines
24 May 08
I'm not a vegetarian, I've given up pork and beef because I never really liked them. Now, I get a tummy upset when I accidentally eat red meat. I like vegetarian food but I dunno if I can give up fish and chicken, I love eating :D But kudos to you and your family.

• Canada
24 May 08
I eat mostly vegetarian food and I love it! It is lighter, tastes better and is healthier!

• Indonesia
24 May 08
hi. I am not vegetarian but I LOVE vegetarian foods because they are healthier and also taste good. :) I keep hearing that vegetarian people have better and healthier skins. so, you are lucky to never taste meat.


• Mauritius
24 May 08
same as you:) am also vegetarian since birth and everyone in my family is vegetarian since birth. i really love eating vegetarian food.

• Mauritius
24 May 08
same as you:) am also vegetarian sice birth and in my family also everyone is vegetarian since birth.:)

• India
6 Jun 07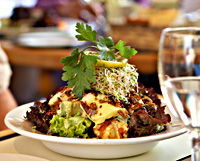 I am both vegetarian and meatarian. But I prefer vegetables most. Meat are rich in fat and could cause cholesterol. Vegetables are sweet, rich in vitamins, proteins and glucose.