What will we do with the Maple Leafs next year?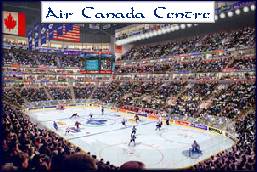 June 6, 2007 4:58pm CST
The Toronto Maple Leafs never seem ever to be able to compete ever since the Ontario Teachers Plan bought them out. Will the Toronto Maple Leafs ever be able to compete or is the stadium always going to be sold out with rich executives?
4 responses

•
9 Jun 07
What say they get put on the sidelines so they can see how the game is played

• Canada
7 Jun 07
Every year I hope they will do something spectacular but yet again we are let down. I think you're right about the stadium being sold out with rich executives, but who else would be able to afford the seat prices? Definetely not me. Maybe next season we will be suprised.

• United States
11 May 09
I always say my prayers before every season. Its almost hard to watch some Leaf games. They have so much potential but always end up making wrong choices. It seems like whenever they get a player with potential, they let them get away. Look at Sundin and Andropov. They used to BE the team. And look at them now. Andropov is excelling on the Rangers and Sundin is doing the same for Vancouver. Now im more than happy with their current roster..... if they can measure up. I'm not sure leaving the team on the shoulders of guys like Blake and McCabe is the best idea. Hopefully the tides will turn in our favor in the near future.