Break traffic rules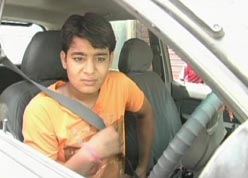 India
June 7, 2007 3:38am CST
Deepak Gupta from Delhi, India was cought by the Traffic police for drunk and drive after he lot control over the car and remmed into Dehi fly over. This matter was taken to court and confessed for drunk driving. Instead of sending him to jail he was given unusual punishment. Deepak has to manage the traffic at the kalkaji circle in Delhi for 10 days in Delhi. He said that he will never drunk again and drive and no one should drink and drive.
2 responses

• India
7 Jun 07
Wow! Now THAT is what I call true punishment. This is quite akin to asking Naomi Campbel to wash the toilets. This is the kind of punishment that should be given to civilised people. Most such men aren't criminals and putting them in jail will have long-term damaging consequences. Asking them to pay fines doesn't help too much either, since people seem to have too much money these days. This is the best thing to do! Putting him in the middle of the road, amidst all the pollution and all the rucus, will put a scare of the road into him, and make him realise just how dangerously people drive - and it'll make him realise how dangerous it can be if any of these people are drunk! Thanks for the superb piece of news :)

• India
7 Jun 07
Kudos to the judge who passed that judgement! We need more such rulings, and more such realistic punishments. Such rulings will not only help the already under-staffed traffic police, but also help in bringing the offenders to their senses. These are not bad people who break the rules, they are just mislead and punishment such as these will help bring them back to their senses.