Are generic medicines as good as the brand name ones?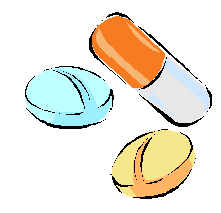 United States
June 7, 2007 8:33am CST
I used to think that the generic medicines were just as good as the brand name. I thought that the only difference between generic and brand name drugs was the fancy label. This one medicine that I'm on, I used to use the brand name, but I switched to generic when it came out because it's cheaper. I then noticed that the medicine wasn't working as well as it used to. I didn't think it had anything to do with it being generic though. My doctor increased the dosage and I had a bad reaction to it, which was weird because I had been on a higher dosage before without any problems. So I had to lower the dose again and settle for it not working as well. I thought that maybe my body just changed and was not metabolizing the medicine the way it used to. Then I found a forum for the medicine I was on and hundreds of people were complaining that the generic didn't work as well for them as the brand name and a lot of them were saying that the generic was giving them bad reactions. So it finally hit me that it was the generic pills that were making the medicine not work as well for me. I called my doctor up and asked him if it was possible for generic pills to not work as well as the brand names. He told me that the brand name and generic medicines have the exact same active ingredients. However, they have different inactive ingredients. Sometimes the inactive ingredients in generic drugs prevent all of the medication from being absorbed into the body and sometimes people have a bad reaction to these inactive ingredients. So it seems that if you want quality medication, then it's best to go for the brand name drugs. It just sucks because they are so much more expensive. ~Kythe42 http://lemurianphoenix.blogspot.com
8 responses

• United States
7 Jun 07
Believe me I know and it's miserable. It's the inactive ones that area also harder to find to look up on medications. As someone who is allergic to such things as iodine and any form of sulfa product I have to check every medication I get and many of the generics have one or the other if not both in them in some form or another. It's very frustating. One has to check everything out and my thought is if the generic company can make it for that price there is no reason the name brand can't so they should lower the prices.


• United States
8 Jun 07
You are quite right. They do not care about the consumers at all. They just want to make their money no matter what.


• Canada
7 Jun 07
Thanks for this entry. My husband has been telling me to take a generic painkiller for months now. The problem is that when I take it I still have pain. It just doesn't work for me. So I make him go to the store and buy a brand name painkiller like advil or tylenol and they work fine. He keeps trying to tell me there is no difference ..well now I can tell him he's wrong.....lol...

• Philippines
7 Jun 07
thats what my cousin told me also, she's a pharmacist...although there are times that generic medicines can work on you sometimes it wont..so that really varies no how youre bosy react to the medicine youre taking. hope things are fine with you now!

•
8 Jun 07
Wow! Thats interesting. Most of the time my pharmacy will ask me if I want the generic because it is less expensive. I do not seem to have any problem. I feel that my medicine is working fine and I have not had any bad reactions. But thanks for the information. I will be alert the next time I get a new medication

• India
7 Jun 07
a generic name, which is the active ingredient of the medicine a brand name, which is the trade name the manufacturer gives to the medicine. Medicines also contain inactive ingredients, which are used to formulate the active ingredient into a tablet, liquid, cream or other preparation. These inactive ingredients are called excipients, and different manufacturers do not always use the same ones when formulating their product. This is why medicines containing the same active ingredient, but made by different manufacturers, may vary in appearance. The excipients used may create small differences between them, such as in colour, or the amount of time it takes for a tablet to dissolve in the gut and be absorbed into the bloodstream, but these differences are rarely significant, which is why generic and branded medicines are (with a few exceptions) interchangeable.

• India
8 Jun 07
Goodmorning Kythe! I hope you are now better with your problem. In india, all general practitioners are using generic medicines. And with bottom of my heart i can say they do not face problems with results which they expect form the medicine. Medicines are manufactured according to certain rules. Each medicine is to be collected in certain conditions like atmosphere, temperature, season, and time of day. If companies do not follow these basic rules, their medicines are not going to work at all whether they are manufacturing generic medicines or branded medicines. Brand is the Name they have patented for their product. The companies are charging more for the patented product only. In generic medicines this patent fees are not charged. Also generic medicines are being sold in Bulk packings. and Branded medicines are sold in stirp packings. so packaging cost also goes higher. these are the causes for branded products to be costlier. Results has nothing to do with whether generic or branded medicines. Results are depending on only the ingredients of the medicines. So please do not blame generic medicines.

• United States
7 Jun 07
I believe that they are basically the same thing. Ive always used generic and they work just as well as the brand name. Im not paying for a name no way.