so sad

China
June 8, 2007 11:23pm CST
I am so sad today. I find out that yourself is who you can rely on. New in the company, be busy with plenty of work, I don't want to ask leave frequently. For this, I ask classmate to help me deal with school affirs. But for some reason, it goes no result. However, I cann't go back school right now. I have asked some others to help me, but no result. They all have their reason. I know I cann't doubt our friendship, but......
2 responses

• Australia
9 Jun 07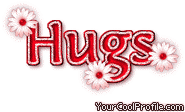 I'm not sure on your exact situation I'm having a little trouble trying to work out exactly what you are saying... Sorry but here's a hug for you I hope this will make you feel better.... Hang in there......

• Philippines
9 Jun 07
Then, you need to have time management, and make up something on your personal matters if you have free time even for 10 minutes. Don't rely on someone who can't undestand your situation. I knkow you can do it...you need new set of friends either.