Does Paypal deducts a fee from ur Mylot Earnings ?

India
June 8, 2007 11:41pm CST
I heard a lot of ppl are beoing paid today by motly. I have not made it to minimum payment mark as yet,i will be paid next month hopefully. But what I want to ask is that I have heard that some ppl say that paypal charges/ decuts a fees from the mylot payment send to us , and some ppl sya that they get full payment from mylot without any deduction. So I would like to know if u get it ful, or u r charged a fees for it by paypal. Also, how can this happend, then Paypal charges fees to some ppl , and for some other it does not? I am confused, pls clarify. Thanks.
2 responses

• India
10 Jun 07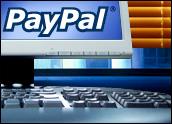 Dear msbawangada If we have personal paypal account then nothing will be deducted from our paypal account and we will receive the full amount in our paypal account.. Also it's good to have a personal paypal account rather than having premier or business paypal account. Go ahead nothing will be deducted .. even I received my payment today through mylot in my paypal account:)