Last Respect to myLot member MCAF1970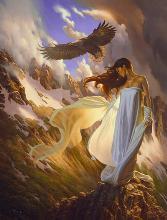 Philippines
June 9, 2007 9:49am CST
This is my final tribute to MCAF1970. She is in the presence of our Lord now. She died of cancer last Thursday. She was one of my earliest referral here. When I told her to join two months ago here in myLot she was very happy and excited to start posting. She spend hours infront of the computer interacting with discussions and posting her own too. Her hubby and kid Kiko almost lost their turns in using the pc. MyLot has become part of her latter life. She had made at least 113 posts. The photo below is her chosen avatar. Her hubby is also a member here and a good riding buddy of mine. Farewell MCAF1970.
5 responses

• Philippines
9 Jun 07
It's really sad when I knew that she passed away. What I can only wish is that may she rest in peace with our Lord Jesus Christ. Goodbye MCAF1970... Your memories will always remain.

•
9 Jun 07
My deepest sympathies to you and her family. I know the feelings of loss you are experiencing as I too lost a family member to cancer in December. This is a very thoughtful post and I hope you get many messages of condolence to help you. God Bless. J.


• United States
24 Jun 07
This is so sad. I never knew her here, but I haven't been around much. It's so nice of you to pay this tribute to her. My thoughts and prayers go out to her husband and child, and to you for losing a friend.

• Philippines
15 Jul 07
Oh I feel very sorry for her but at least she has been part of this small community and had experienced being here, I hope the best of her wherever she is, and I know she is in the best place so no more worries, thanks, God has always the reasons..^^