Anybody here uses JXD PMP player?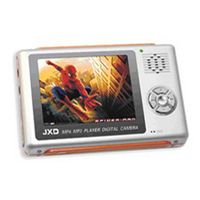 India
June 9, 2007 12:59pm CST
Hello,I use JXD 661. I need a software to convert videos into ASF format. I have lots of software that can convert to ASF. But when I import the video into my device it refuses to play it. Do anyone have a convertor that actually worked on JXD player?Thank you.
1 response

• Peru
29 Jul 08
I usually use Agile Video Converter Version 2.8 works with almost all video formats but there are some movies that has been converter many times so right now i dunno about 1 specific program ... just select with the Agile Software ...Convert the video to .mov format = quicktime ... with a resolution of 320x240 Full Screen Size ... and 1200 Kbits/second(quality) or normal quality 1000 kbits/s any further and the player will have problems ... also with h264 movies select 768 kbits/s because h264 have much further quality so 768 equals to 1000 aprox ... it works for me better than divx or xvid and at 30 frams per second ...Good Luck ... if u find other program that works let me know plz... smodd
@hotmail
.com =)