Is birthday celebrations needed


India
June 10, 2007 9:07am CST
Yesterday was my birthday...I dont have practice of celebrating birthdays...But when I entered my office there was surprise that people were waiting for me to cut the cake...I already informed some days back not to do anything like that...But they didnt hear my words... I was very much embarrassed in that situation..but couldnt help it out without celebrating...No other way so I celebrated...Share your birthday memories
2 responses

• United States
10 Jun 07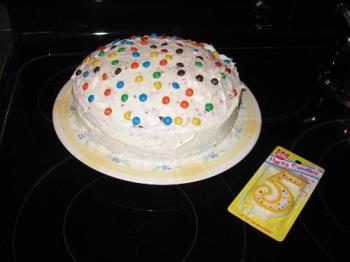 I love celebrating life and, with that, comes birthday celebrations. I treat birthdays for adults a lot like mother's day and father's day - modest gifts, a lot of pampering and a lot of spoiling. That seems to be met with a lot of gratitude and not much embarrassment.

• India
10 Jun 07
Ok...I also celebrated birthdays at my childhood days...We are grown up..So to celebrate now it is embarrased..Anyway cool...Thanks for your response

• United States
11 Jun 07
LOL I was describing adults who *weren't* embarrassed, so maybe it's just something you're going through and will eventually get over? Adults love it when I throw them these parties and, like I mentioned, they're a lot like Mother's Day and Father's Day celebrations so they're not too over the top or silly. :) That cake picture was the only one I had at the time, so I stuck it up in the post because it was somewhat related. :)

•
11 Jun 07
I think it is lovely when people do something like this for you. I have never had a party for my birthday but always put one n for my little girl, now my freinds and I are all older we tend to club together buy the birthday person a meal and drink each and have a great night out. i can imagine being a bit embarrassed but what a nice gesture you must be really well liked and loved by your collegues.