Milestone celebration like Golden Wedding, 50th Bday, 100th Bday...Attended Any?

Philippines
June 10, 2007 10:10am CST
Have you celebrated or attended a milestone celebration like Golden Wedding Anniversary or 100th Bday? Where was it celebrated and how was it? My parents-in-law had their Golden Wedding Anniversary Celebration last June 2. The renewal of vows / marriage ceremony and mass was held in a chapel of a hotel and the reception follows at the Grand Ballroom of the hotel too. It was well-attended by family members, close relatives and close friends of the family. I guess my parents-in-law are few of the lucky people who had celebrated a golden wedding because some couples don't and can't celebrate it coz of some reasons, either one spouse had died or they separated/divorced. My own parents are not that lucky coz my mom passed away 2 years earlier before they could have celebrated it. The mother of my officemate will be 100 years old in november and they are planning a grand celebration for that. What about you, have you attended any? Are you planning to have a milestone celebration too, like a 50th bday, 75th bday, golden wedding diamond wedding?
2 responses

• Canada
10 Jun 07
Years ago my Nanny and Papa had there golden wedding anniversary. Papa had to go to Vancouver for the day to his heart specialist so we all went to the house and decorated and made dinner and had a big cake ready to go for when they got home. They were so surprised and they both cried. Most birthday parties are at the persons house and end in everyone being to drunk to go home.

• Philippines
10 Jun 07
That's great! Very few couples have the chance of celebrating their golden wedding anniversary. It is heart-warming to see that your love ones are so happy when you give them surprises.

• United States
15 Jun 07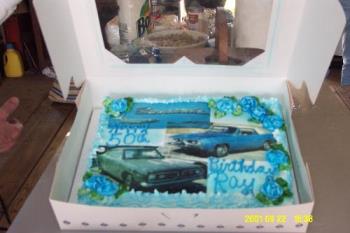 I have been to golden wedding anniversary parties for my mother and father in law, and my aunt and uncle. They were both good celebrations. My favorite milestone celebration, though was my husband's 50th birthday party. We had a backyard party with friends and family, and it was a great time. His aunt made him a birtday cake decorated with a picture of a car that he's restoring.