I think I'm running out a discussion here....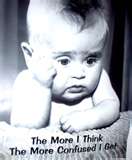 Philippines
June 10, 2007 12:40pm CST
Did you ever feel sometimes you feel your mind is blank and can't think? hehehe I don't know If me only can experienced it. A little while ago before mylot was to update our earnings for today I was already thinking of a new topic to be discussed and unfortunately till now I can't think a new and interesting topic. But most of the time I can think easily and when I post it already and somebody response to it I feel wonderful coz a made a good one. I don't know if I'm tired in the whole day activities coz we went to the mall with my daughters or maybe I don't have enough sleep last night. When ever the reason is I'm still lucky that you guys are there who listened to me and I can say with your presence I made a real discussion now. Thanks
4 responses

• Delhi, India
11 Jun 07
Yes, sometimes...I also get gloomy...when I do not find topics to start a new discussion. But as far as you are concerned....you always come out with wonderful, interesting, lucid and easy discussions...which I always feel can be answered by me. Best of Luck!

• Philippines
11 Jun 07
It's a very big pleasure to me to what you have said, thank, thanks , to you. I feel I can do alot more topics now hehehe. have a nice day deepak.

• Philippines
11 Jun 07
I guess it's natural to feel this way. We can't think of something new and interesting topic to posts, lol! You know, when I was a new member of this site, I'm so excited to posts discussions. I have alot in my mind and I can't think which one should I share first. But then after some times, I feel like I'm exhausted. Just like you I can't think of anything that may caught some people's attention. Don't worry because sometimes when I don't think of anything, it's the time when topics easily comes out of my mind. Good night my friend!

• Philippines
11 Jun 07
Your right when I'm in the mood even I don't think of a discussion it will automaically comes out of my mind. Thanks jencai, good night too.

• United States
10 Jun 07
Of course I do. Yesterday I felt like this! I felt like I didnt have anything at all to say or no response to anything as well. I only made like 17 cents or something like that. ANd then other days I say whats on my mind and cant shut up, LOL

• Philippines
10 Jun 07
Thanks I hpe it will not happened to us anymore coz we might not earn hehehe. Have a nice day.

• India
18 Dec 07
I never felt dearth for subjects. There are thousands stored in my mind. But I am not posting because it is difficult to get responses properly. who who just want to visit and write a word or two. That is it.They want to increase their rating. That is the reason I always concenrate on resonses.