Time to serve and worship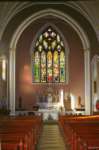 United States
June 10, 2007 1:10pm CST
It's Sunday and it's time to go to church to serve and worship our Lord and Savior. Make sure you all listen to the message that comes out to you this glorious morning. Have a good time and God bless all of you.
1 response

• United States
10 Jun 07
i don't attend church very often, as i do not agree with the practices of most organized religions. however, i am very interested in the message for today and to fuel my spirit for the week. if you wouldn't mind sharing, would you please share it with me? thank you. and may God bless you as well.

• United States
11 Jun 07
Unfortunately I missed the main message because I was in Sunday School, but I will read up on it and if you're still interested, I will let you know. I can fill you in about my lesson with the children today. It was about David and Goliath. The lesson was based on strength and protection and how God is the giver of strength as he gave David his to go against the giant. Plus, he also protected David from the giant. To apply that to our lives, God gives us the strength when we are at our weakest point. We just have to allow him to do it. We cannot always think that we can do things on our own without God by our side. We need him. And the thing is, he's always there reaching his hands out to us to grab on to, but we just continue to turn the other way. I know that you said you disagree with some of the practices of religions, but I can say this, you will never find a perfect church. All churches have their flaws. Even the bible talks about it in the book of Revelations. We have to be able to stand on the word of God and continue serving him. We go to church to serve and worship him not to look upon everyone else's faults. When we do that, we let that distract us from the focus we should have with him. I think you should find you a church to attend and go there to serve God, not impress everyone there (not saying that's what you do). Just find a church that you feel comfortable in. Pray to God and ask him to guide you to the place of worship where your purpose is. Believe me, he will lead you to a place. Just go and serve. That is all I can encourage you to do and I'll keep you in my prayers. May God bless you. If you need to be encouraged and you want to chat with me, just visit my site http://rabanesd.tripod.com my address is on there.

• United States
12 Jun 07
thank you for your prayers and advice. i shall certainly pray for guidance in serving our Lord. do you truly believe that you have to attend church to serve Him though. i do praise Him and try to do His will in my everyday life. i am not perfect by any means, but i do try to make my Father proud. i have found a few services that interest me, and perhaps i'll try one of those again. i will check out the link you posted. thank you again!