Your Kids & What Makes Them Special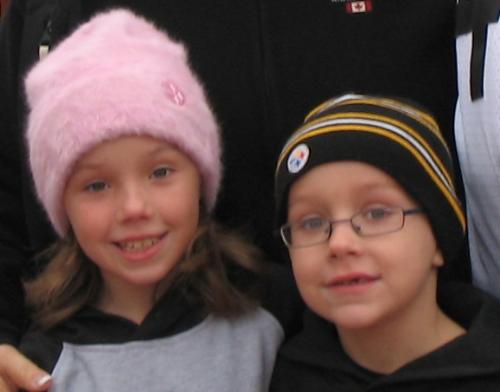 United States
June 11, 2007 9:37pm CST
This one is for the parents out there. What are the special things your kids do or say that make you proud? Do they have any special talents? Here are mine.. MY daughter...super smart, she is 9 and is in the student council and the gifted program at school....caring, always looking out for her brother..I once saw her tear a strip off a kid for making fun of her brothers glasses, helpful..feeds her cats and cleans their litter every day...crafty..loves making things My son...a natural comedian, he's the king of the one-liner, a great little soccer player, he's all heart and no shortage of skill out on that field...lovable...he'll sit beside you for hours cuddling up and playing with your hair (he's done that since a baby both of them...polite and respectful to a fault...they are constantly praised by their teachers and other parents on their manners and behavior Okay, I'm done gloating, tell me about your kids...
4 responses

• United States
12 Jun 07
My little Alexi just turned two months old last week and she is just full of smiles. It is the completely cutest thing in the world and every time she does it, I almost cry lol

• United States
12 Jun 07
Well, I only have one child right now, but he is the greatest! He's my blond hair, green eyed joy! He's only 10 months old but so full of life. He's amazingly gifted and advanced for his age. He rolled over at 9 days old! He'll be walking very soon too. He's the happiest kid you'll ever meet. He is always smiling, laughing and having a good time. He perks up a room just by being there. You can't help but smile when listening to him laugh. He loves books and to make animal noises. He says a few words mainly mama and dada but occasionally he'll throw in another word or two. He's great! I love my little boy.

• United States
12 Jun 07
NICE!! That's a great time...you're going to have your hands full when he starts walking...it's a whole new ballgame then...LOL

• United States
14 Jun 07
To start with, my four children are special because they stand out in a crowd with their beautiful red hair! Each of thier hair is a different shade of red, but none have the orange, clown-like red hair. The oldest has always set an example for the youngest. He always had good grades, great manners, great disposition, wonderful sense of humor, and is a tested/proven genius. He graduated college and has a wonderful job. He is married to a wonderfully sweet woman. The next one dances to the beat of his own drummer! He went through a few rough years in high school, but has settled down. He regrets not having finished college, but hey, one can always go back. He has blessed me with my only grandchild to date. His significant other is a sweet girl. The two youngest are still at home, ages 18 and 17. LIke their oldest brother, they are tested/proven geniuses. (How I ended up with three of these is beyond me,....they certainly didn't inherit it from me!! ) They have always been the type that adults gloat over adn as you described, constantly praised by teachers and other adults. They both have an incredible sense of humor, strong work ethic and are fun to be around! The 18-year old leaves for college this year, leaving me one at home. Of course I dread the day when that last one 'leaves the nest.' I have truly been blessed with wonderful children.

• Philippines
13 Jun 07
I have four lovely children and they are so special. They are mine and they gave my life direction. I am usually an ambitious person but before, I used to dream for myself. Now every dream I have is for them. Their loving attitude also makes them very special. I just have to say they grew up like their mother.