Anyone ever heard of a band called Mr.Bungle , or is a fan?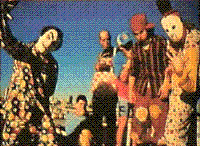 United States
October 23, 2006 10:37pm CST
Mr.Bungle was a band that started in the 80's but made full length albums in the 90's known for wearing masks on stage. Genre: avant-garde, experimental, ecletic.
1 response

•
8 Jul 07
I love Mr.Bungle and I love stuff with Mike Patton. I also like Fantomas, which have trevor dunn on bass and Patton on Vocals.