More Vacation Photos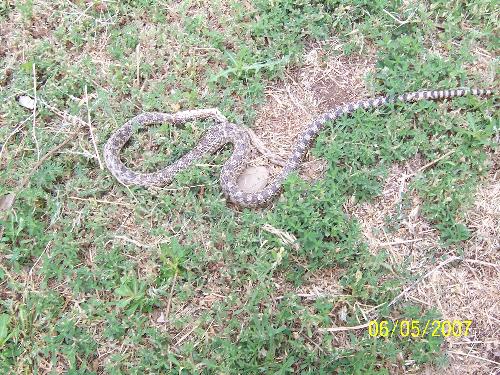 United States
June 13, 2007 1:58am CST
Grandpa Bob requested more vacation photos so you can blaime this on him LOL. My twin as you all know has a farm. She has the good animals which also comes the bad animals. She had to kill a rattle snake one day. We took my nephew out to see it and get a lesson on how to kill a rattle snake and to always cut the head off of it and bury the head. I explain to him that the head was still full of venom and someone could still die from a dead snake. Once the snake was beheaded my twin's dog used the snake as a whip lash and sprayed us all with snake blood because whe grabbed it before we could get out of the way. Yuckk. The joys of living on a farm.
2 responses

• United States
13 Jun 07
Yuck, I hate snakes. I don't think I could live where there was rattle snakes but it sounds like your sister is use to it. Now I have to go look at your other pictures. Hopefully there are no more snakes.

• United States
13 Jun 07
No no more snakes. Only one picture of the snake

• Ireland
13 Jun 07
Wow, that looks like a serious snake there! We don't have anything like that here,although I guess theyhave poisinoius adders in England. You are very brave to go after it and kill it. They move so fast they freak me out a bit. And what a naughty dog! The things they think are fun!

• United States
13 Jun 07
Worst part was my nephew had snake blood splattered on his face. If he would have known he would have freeked out. I have him standing in front of me and I had my arms around him. I kept talking to him trying to reassure of that he was OK.