Hysterectomy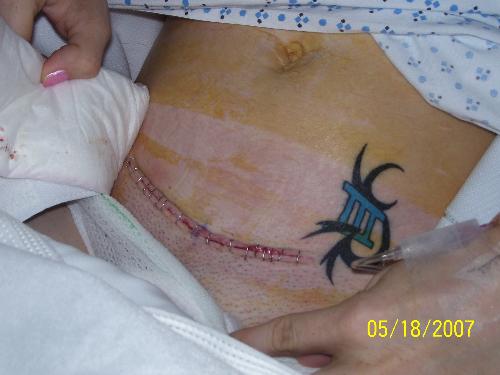 United States
June 13, 2007 2:18pm CST
I am 22 and have had endometriois since basically I started my monthly. And just recently had a hysterectomy. I am curious how many people actually had a hysterectomy to try to cure this horrid disease. When you had it, did it help or the pain stay the same? Anything you would wnat someoene else to know? Id like to hear stories, and any advice I can get.
3 responses

• Philippines
16 Dec 07
The best option is hysterectomy with bilateral salpingooophorectomy.So far, no consensus has been reach regarding removal of ovaries in young patients.However, if you don't remove the ovaries along with the uterus, coelomic metaplasia may occur and symptoms recur

• Canada
1 Aug 07
I am 32...I just had got a hysterectomy too because of the edometriosis. I have had it since i started my periods when I was 15. I had two children the ones they said I couldn't have. So now I have decided I'm sick of living with the pain. I got the hysterectomy 5 weeks ago. But I tried so many things before to get rid of the pain. I just hope this works.

• Canada
19 Oct 07
Hi, I too have had a hysterectomy due to the pain endured with endometriosis. It took doctorsforever to come up with a diagnosis. I was having extreme pain due to this condition since I wasw 18, I never got the hysterctomy until almost 6 years ago, I am now 39. They had me try pills, injections homeo remedies amongst other things before they finally agreed that the hysterectomy was the last option available. Needless to say I went thru 16 years of hell. Now things are alot better than they were, although I still have some pain, but not near what I endured prior to the hysterectomy. I should note that the only way I could have the hystectomy was to leave the ovaries due to my age at the time, I myself think they should have been removed as well. C'est la vie, as they say, time will tell. I wish you all have success in overcoming this debilitating and often ignored illness. Cheers to ya all!

• Philippines
15 Jun 07
I also had hysterectomy (TAHBSO) 3 years ago, and it was really an ordeal. Just like you, I was suffering from severe endometriosis to the point that I was already bleeding. The surgeon had to do an emergency operation on me because if not, I would really bleed, and God knows what would have happened to me. It was on a December that I was operated with a ruptured ovarian cyst...then in May or 5 months after, I was operated again with TAHBSO because of abdominal pain with bleeding. Consequently, I had clinical menopause. It was difficult adjusting to it at first, but now, I feel better. The symptoms have not affected me this much, although I feel that I am never the same again.