Which Skittle Flavor Are You?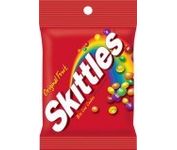 United States
June 13, 2007 9:29pm CST
Until a few months ago I had no idea that there were so many different types of Skittles flavors on the market. No longer are there just the basic ones (grape, cherry, orange, strawberry and lime). Now there are even more flavor mixes to choose from! == Wild Berry: Raspberry, Wild Cherry, Strawberry, Berry Punch and Melon Berry. == Tropical: Banana Berry, Kiwi Lime, Strawberry Watermelon, Mango Peach and Passion Punch. In some areas you will be able to get ones that also include Pineapple Passionfruit, Strawberry Starfruit and Mango Tangelo. == Sour: Blue Raspberry, Lemon, Strawberry, Orange and Grape == Smoothie: Peach Pear, Lemon Berry, Orange Mango, Strawberry Banana and Mixed Berry == Ice Cream: Vanilla, Chocolate, Strawberry, Caramel Ripple and Orange Vanilla Swirl == Carnival Skittles: Cotton Candy, Green Slushy, Red Licorice, Candy Apple and Bubble Gum. These were a limited edition Skittle and are extremely hard to find. == Extreme Fruit: Blue Raspberry, Green Apple, Tangerine, Watermelon and Wild Cherry Out of all these, I would have to say that I'm Carnival Red Licorice. If you are going for the best taste, hands down (in my opinion) you have to go with the Wild Berry / Wild Cherry or Extreme / Wild Cherry.
2 responses

• Australia
14 Jun 07
I would be an extreme fruit - wild cherry would be my favourite.

• United States
14 Jun 07
Hmm! Well, I'd probably be the Carnival Cotton Candy haha, but I can't see that tasty very well (gulp). Some of those flavors sound really good, but I'm not so sure about them as a Skittle. Maybe I'm actually boring, so perhaps I'm really just good old Classic Skittle Grape. Yeah...lol Flavorwise, the Wild Berry sounds yum. Mmm..