Name your favorite fastfood chain or restaurant in your place.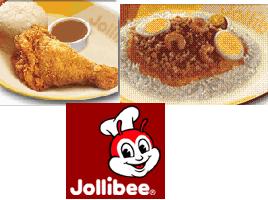 Philippines
June 14, 2007 8:01pm CST
I have my favorite fastfood chain and restaurant in our place, one named Jollibee wherein I always love to order crispy "chicken joy" & "palabok" (made of bihon noodle w/ sauce & toppings). Another one named "Coffee shop", their ambiance and specialty on tasty delicious "Tacos" makes to consider this restaurant as my favorite place to eat. What about you, do you have any favorite restaurant of fastfood chain in your place? what is your favorite menu or food to order? What makes you consider them as your favorite place to eat?
4 responses

• Philippines
15 Jun 07
i would say.. =) jollibee is also my favorite of cors the famous chicken joy LOL~ =) ; chowking i love there bangus with garlic rice; Pizza hut the one and only pepperoni pizza with cheesy volcano on the side yummy lol~

• Philippines
15 Jun 07
my favorite restaurants in my hometown is called biggs.. they're like fine dining with just the right price. i love their grilled cheesy burger and tenderlion tips. i always make it a point to visit this place whenever i come home. here in the capital, my officemate and i usually go to a coffee shop called "country style" after work, its one of our favorite place to hang out and have some cheap but great tasting brewed coffee. my other favorites ae gilligan's island, green earth, dencio's, gerry's grill, teriyaki boy and mongkok.

• India
15 Jun 07
hi a_ce_e...i love to go to Rajastani cent in my place.it is one of my favourites and like to have rajastani chats.usaully we will go to have pani poori,kachori there and they tastes really good and sometimes i go with my friends but usually go with parents

• Indonesia
15 Jun 07
hm my favorite fastfood chain or restaurant in my place is gokana tepan, it's japaneesee restaurant and my favorite menu is ramen noodle..