Do you still dream of a church wedding?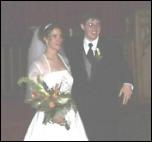 Philippines
June 14, 2007 10:41pm CST
Nowadays, planning for a grand wedding is expensive. You will consider everything - food, reception area, guests, souvenirs, and a lot more. Church wedding has no difference with the fact that it's expensive. Come on! Tell me your views. Would you still want and dream to have a church wedding?
4 responses

• United States
15 Jun 07
We will be having a small outdoor backyard wedding. Only close friends and family will be invited. The ceremony will be short and then we will BBQ and have some cocktails. I still want my beautiful wedding dress(a 1950's style halter gown) but I am lucky to have skills in sewing and will be making my own. It will still be exspenvie, but it will be more personal to us and our friends and family. We don't feel that we need a big huge wedding that cost more than our house. We don't need to show it off, we just need people we love to celebrate with us.

• Australia
15 Jun 07
I and my husband did not have a wedding party, we did unusual everything. We had honeymoon first instead of after wedding. After honeymoon, we registered and we did everything we like on that day. We had a lot of fun .. heheh .. i still laughing when i wrote it here. After all, we anounced our wedding to family/ friends. And we just had family dinner from both site to said "congra. to us", we also received a lot of "congra." cards from friends. The reason we did that because we thought wedding is enjoyment of two persons (bride & groom), so we did everything for us to make us more joy and bliss on that day and the life we will give for each other.

• Philippines
15 Jun 07
yes i would like one someday but if looking at the wedding in a practical way, i would rather have a civil wedding especially ifboth i and my husband-o-be is not that really well-off. instead of spending money on lavish wedding, we can spend the money on starting a business or building our house...

• United States
15 Jun 07
If I ever get married, which doesn't seem to be in my future, I would probably want to get married on a beach. I would want it to be a more intimate wedding, only having my closest friends and maybe a few family members, if I had anyone else there at all. I would love to be on a beach and make whatever promises with my lover and have that be that. I am not much on formalities, I think the only thing that matters is that your heart is content.