If You Like Patriotic Clothing (5T):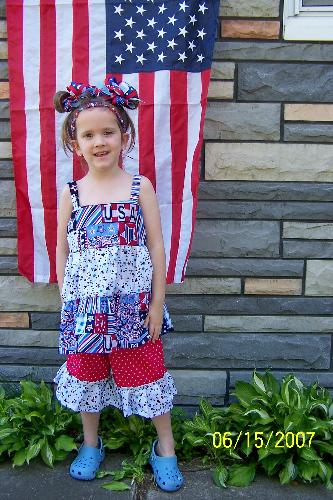 United States
June 15, 2007 2:55pm CST
I just recently finished sewing and creating a Patriotic outfit, complete w/accessories. It's a 5T - according to the pattern I followed. But, it's a little big on my 5 year old. She is petite, but I think, w/adjustable elastic, this would also fit an average 6 yr. old. The bows are all hand sewn, no wires or glue to come undone. The headband has genuine grade A Cat's eyes, and swarovski crystals. I do not recommend them for children under 3 and w/o adult supervision. If you may be interested in purchasing this, go to eBay.com and search: Boutique FAD. thanks for looking.
1 response

• United States
4 Nov 11
that is such an adorable patrotic outfit for a child i love patrotic outfits and i am always looking for some to wear around the forth of july and september eleventh but i have very few garments i would like to make my own patrotic clothing to wear but i have just not gotten the time on my hands yet as i stay very busy but the pattern that you used is very cute sewing is the best way to go even though glue can be easier it comes undone easily especially in the washing maching and wires often poke through the fabric and are painful