Tattooed Bodies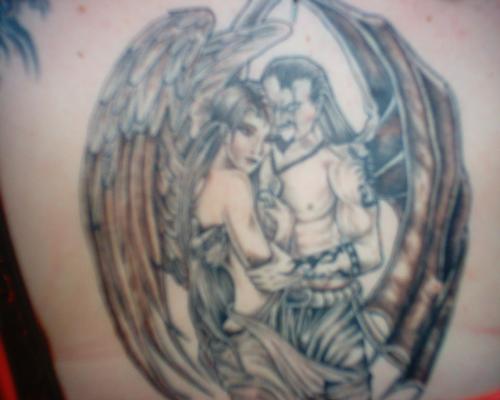 Canada
June 17, 2007 4:50am CST
I find tattoo's to be very sexy but mostly a book on someons life something they rather have ontheir skin then talk about it, but if you put it on your skin basicly you do have to talk about it dont you, enquiring mind want to know why and where and when you got it. I have 13 myself, all about things that happened in my life or things i feels anger sadness love triumph loss and wahtever else there is, but do man love women who might have more body art then they do if any at all? i dont think it matters really to some, and as for myself i dont relaly care waht ppl think of me and the art i cary on my skin but i sometimes wonder if man are there that enjoy the art you have and appreciates the work behind it and the meaning. just my thoughts is all.
1 response

• India
17 Jun 07
hey i dont understand why people are crazy about tattoos. can u please tell me what exactly u feel like when u have tattoos on ur body..


• Canada
17 Jun 07
as for how i feel when i get them done well pain is the number one key but alost this strange numbness as well that fades out everything else that goes on in your head at that moment in your life and for a few hours you don thave to deal with it, alot of ppl fall into a sleep others bite their lips and hopes its almost over LOL but what i feel when i get one is never the same from the next one i get. does any of this help at all :)

• India
17 Jun 07
ohh thats great to have tattoos as a memory for something or someone u really care for.