What is the exotic or the weirdest food you have ate?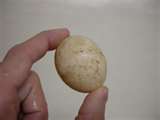 Philippines
June 17, 2007 9:57am CST
I'm not looking for some sort of Fear Factor thing, just real food consumed by people that is just off the hook for example monkey brains? Tell me your weirdest food eaten? Like here in my place we are fun of eating steam duck's egg with well-develop embryo (balot) but in other countries this one exotic food for them. How about you have even try to eat exotic food?
1 response

• Canada
17 Jun 07
I´m not a very adventurous person in the way of food. I used to leave my entire plate if there was a bug in my food! However, since coming to Guatemala, I have become less squeamish. The weirdest thing I have ever eaten would be chocolate covered ants. Not that weird, I know, but it is as far as I could go!

• Philippines
17 Jun 07
Youe lucky coz the ants did not bite you. hehehe thanks for sharing have a nice day...