Do you use grammar and spell checker software to edit ?

Philippines
June 18, 2007 3:11am CST
Anybody who actually bothers to check my profile will know that I like to write. I usually post my work on some of the forums I frequently visits and on my blog. A few days ago somebody tactfully told me that although she likes my story but she find grammar and spelling errors on them. I am actually surprised by this because I am confident of my writing. Don't get me wrong on this, I am confident but I am not afraid to admit that I do commit serious blunders when I write something. So today I decided to edit and proofread some of my previous work that I posted on my blog and I was surprised to see that indeed she was correct. I decided to edit it by using an online spell and grammar checker. The number of mistakes I saw brought me back to earth,and humbled by it. I am now very thankful to that person who pointed them out. Now my question is, are grammar and spell checker softwares reliable? I am using www.spellchecker.net or am I better off having my work proofread by another person?
3 responses

• Philippines
21 Jul 07
I havent tried using any software that has a spelling checker. Anyway, Mozilla Firefox has a spelling checker. SO while I am using it as my browser, I have nothing to worry about spelling. Which browser are you using anyway? HAve you tried Mozilla. If not, you can download the free version from www. download.com

• India
10 Jul 07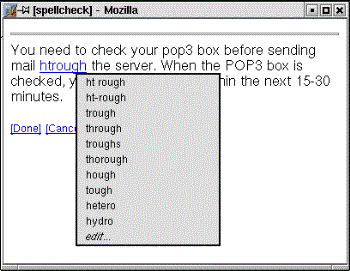 no i do not. actually i take care that i do not make mistakes while typing itself. and if there are some mistakes while typing i correct it then and there and do not keep it to put through the spell checker. i am not used to doing it.

• United States
20 Jun 07
I have always been good at spelling, but not so good with grammar. I don't use any spell check or grammar here on MyLot. I do use it on another site I write on called Associated Content. You get paid for articles you write, but they have strict rules on spelling and grammar. I write my article in Word Perfect first. My spelling is usually okay. My grammar is usually not so great, grammatik really helps me. Then I just copy and paste my article to the site. I've never used spellchecker. Maybe after using spellchecker you can ask that same person or someone good with grammar to check it. I would think the spellchecker site would be accurate, but I've never used it. If no one else mentions your grammar, you can probably assume it works.