a comet is coming!!! it will be here in a week!!!!!!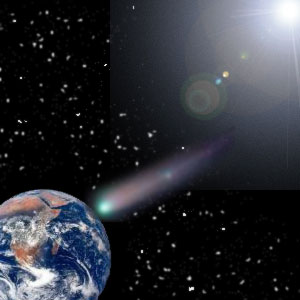 Canada
June 18, 2007 7:03pm CST
Well, not really, but just imagine. :) You have your accumulation of savings or credit at your disposal, so what are you going to do for the next week? I'm going to say goodbye to my family, grab my boyfriend and fly to Europe where we're going to see everything we can before the end of the world. I might also have to coerce my pilot to stop in the states so I can pick up some White Castle sliders, and finally try them. To hell with cholesterol!! :) What about you?
1 response

• Philippines
19 Jun 07
I love to go to outerspace. I want to step on the moon and do the moon walk on my own version. Just kidding! I know it's impossible for me to go there. We don't have a spacecraft here in my country. I'll go to Land transportion Office to get a student driver's license so I can drive the car of my fiance he just bought last week.