how offen do you buy clothes and where?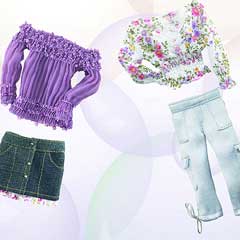 Romania
June 19, 2007 5:27am CST
i like to buy clothes all the time, when i have extra money on my pocket i go at a second hand store and i buy things until i spend all the money i have on me. when i need jeans or shoes i buy them from usualy stores. where do you buy them and at wich time? how much do you spend?
6 responses

• United States
19 Jun 07
I usually buy my clothes from thrift stores because the prices tend to be so much cheaper there than at the mall and other stores. I usually spend between $20 and $50 on clothes. I buy jeans that are still in good shape, socks that are still in their orignal plastic packaging, shoes that have hardly ever been worn, tee shirts, blouses, sweaters, and sweatshirts, all depending on the season of the year. And, sometimes I even get a backpack, mini backpack, or a purse. I donate clothes that I no longer want or can no longer wear (I am losing weight) to the thrift stores, as well.

• United States
19 Jun 07
The only time I buy socks or underwear in thrift stores is when they are still in brand-new condition, and are still in the plastic packaging that it came in. At a couple of the thrift stores here, other stores donate their goods to them, and many times this includes things that have never been opened. I feel very uncomfortable about wearing socks and underwear that other people have worn. There's athlete's foot and other stuff going around, you know.

• United States
20 Jun 07
If no one donated things to the thrift stores, then they would not be able to continue to exist. They only exist because of donations. And, as I lose weight, someone who is my former size can wear the clothes as long as the clothes are still in decent shape. I know how hard it is to find decent, affordable clothes in plus sizes even in thrift stores.

• Singapore
19 Jun 07
I try to buy clothes less often because when I go shopping I tend to overspend :( I wish there were more second-hand stores selling clothes in my country. The clothes there are cheap and sometimes really nice!


• China
19 Jun 07
hehe....I think you are young lady,I do not buy clothes very often,I just buy it in a need time.but my girlfriend always do as you,she often feel that she lack one clothes in her almirah.hehe...she buy clothes all the time if she see something she like.I think it is not wrong,evetyone like beauty,and the young time is limited,we should enjoy it,toliette ourselves as beautiful as we can......lol.....

• United States
3 Jul 07
I usally go out about 3 or 4 times for clothes, I like to go to palces like Jos A Bank. and Brooks Brothers. and I go to penny's and places like that for my sons.

• Brazil
22 Jun 07
oohh i like too always i have extra money i buy some ! ahuahuahua see yaaaaaaaaaaaaa ;*********