Shifting to liquefied petroleum gas-fueled public transport.....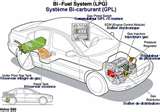 Philippines
June 19, 2007 12:51pm CST
This is what in our news for today.... AT a time when the country is hit anew by an upsurge in world oil prices, prompting oil distribution firms to increase their pump prices, the government continues to search for alternative sources of fuel. A couple of years ago, with the encouragement of our President, Congress passed a law that promotes the exploration and subsequent use of biofuel as an additive to fossil fuel. http://www.mb.com.ph/OPED2007062096219.html Now the question is.... Is it reaally safe for once health? Because once I've tried to ride a taxi with LPG used and it is really smells inside the taxi and the air that came from the vehicle outside is too stincky. Is there any country aside from my country who are using this kind of method.? Whats your opinion on these?
No responses