How many of you are in favour that tha PAYOUT should be made every month's end?

India
June 22, 2007 12:40pm CST
My opinion is that each payout be made at that months end. Well it is really boring to wait till the 15th of every month to get our payment.Not only that I think that the delay would make us loose our interest towards mylot. What do you think about it.
2 responses

• India
23 Jun 07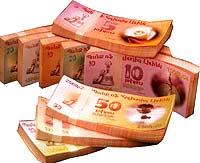 Dear sachin_sachin I have no problems if I used to get the payment on mylot -- by 15th of every month .. because I take mylot as more of fun site .. rather than taking it as only as consideration for money .. I am really glad to be a member of mylot .. There are many other sites .. if you really want to make money .. I like mylot because of the discussions and friends and the payment is just a bonus for me. Happy mylotting to you my dear friend:)

• India
23 Jun 07
I agree to what you say because everyone want their money as fast as possible.