what is salad ?and how many types are there,which you like best?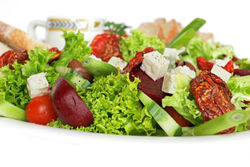 India
June 22, 2007 8:09pm CST
in my view salad is mixing of all raw vegetables into slices and with leaf vegetables before the big meal is likely to take may for natural digestion or tasty or on ayurveda and health grounds.knowing to my view i feel fruit salad,green salad mixed veg salad,etc.. is it vary with country,and what are your types ,possible explain the varities,thank you friends
2 responses

• United States
30 Jun 07
APPLE PASTA SALAD Ingredients: 1 container (8 oz.) plain nonfat yogurt 1 can (8 oz.) unsweetened crushed pineapple, undrained 1/2 tsp salt, optional 1/4 tsp garlic powder 1/4 tsp dry mustard 1 tsp finely chopped crystallized ginger 1 Tbsp honey 2 cups uncooked rotini pasta 1/2 cup shedded carrot 1 cup sliced celery 1/4 cup sliced green onions 1/4 cup raisins 3 cups diced, unpeeled apples (suggested: Empire, Gala, Ida Red, Jonagold, Jonathan, McIntosh, Red Delicious, or Rome) Instructions: Thoroughly combine yogurt, pineapple, salt, spices, ginger, and honey; refrigerate. Cook pasta according to package directions, omitting salt. Rinse with cold water and drain thoroughly. Cool completely. In large bowl, combine all ingredients including yogurt dressing. Chill thoroughly before serving. Makes 8 (1 cup) servings.