Why Is It Nel....????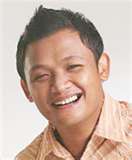 Philippines
June 23, 2007 10:27am CST
Why is it Nel who leave the house...? Why not Wendy? Nel has the right to be one of the big four, eversince he never been one of the evictee. And I know he gives all his best to be deserving as the big four. Any comments on this???
2 responses

• Philippines
23 Jun 07
yes i agree!!!! and it made me mad as hell. if he really did have to go might as well do it on thurs. not this night. now im pretty sure the voting is rigged! abs knows that many people are mad at wendy but i think they see at as publicity, and they know that even if people dont want wendy, as long as wendy stays in the house, people are still going to watch. its all for the ratings. which irritates me

• Philippines
23 Jun 07
your right I'm very disgusted of what they done to the show. Thanks for sharing.

• Philippines
23 Jun 07
well, this is the only way i know that i can vent my frustration of the show.

• Australia
23 Jun 07
Yes you are right. It should be Bruce or Wendy booted out tonight! I also believe that the votes could be probably manipulated by BB since I heard that BB is Wendy's lover. I would want to know what will happen to the next eviction night.

• Philippines
24 Jun 07
Yeah I already heard that, BB is in favor of wendy thats why she has to come back again on the house...