This Is For Muslims and Christians, Favorit Bible Or Quran Story.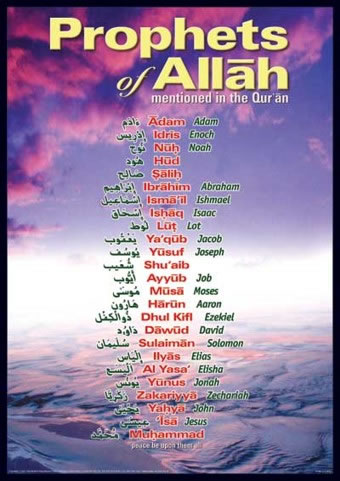 United States
June 25, 2007 1:21am CST
Both books have many of the same stories. What stories do you like best. If the Christians look in the right in the pic you will see some names you know from your Bible.
5 responses

• United States
25 Jun 07
my favourite is 13. Then Jesus came from Galilee to the Jordan to be baptized by John. 14. But John tried to deter him, saying, "I need to be baptized by you, and do you come to me?" 15. Jesus replied, "Let it be so now; it is proper for us to do this to fulfill all righteousness." Then John consented. 16. As soon as Jesus was baptized, he went up out of the water. At that moment heaven was opened, and he saw the Spirit of God descending like a dove and lighting on him. 17. And a voice from heaven said, "This is my Son, whom I love; with him I am well pleased." God identifies Jesus as his son contrary to what the muslims believe !!

• Bangladesh
27 Jun 07
both teach how we should live. both are created to have peaceful life so it is probable to have same line in these holy books. christians and muslims have the same person (jishu) to obey. christians follow him as the creator of the religion. muslim follow him as a holy person of their religion but they obey muhammad as which way cristians follow jishu. so same story most probable

• United States
25 Jun 07
neither one where I Do not believe in a religion or religions where there is hatred and lies coming from them. Most and so far all religion groups I have studied have shown mean hateful acts that I just do not see how they can be religious. So these religions and books that are constantly brainwashing people so they feel better and think they have a meaningful life should be stopped. STOP THE LIE, there is no stairway!!

• United States
26 Jun 07
Oh my. Don't you think that people who don't beleave in God have done bad things? Am I to judge you by there actions. No I would give you a chanch to show me your a nice person. I would like you to know there is a stairway. It is just a matter of are you going up or down.

• United States
26 Jun 07
I am asking about the religions with hatred.? Most of them, if not all have it. People who are not religious act in a hatred way as well - I am sure I am a sinner, but I do not have to have a religion to let me know that. Also where are the rules on what a sinner actually is? The Bible? Again, a standard made by a man who for all we know is a bigot. Also you say there is a stairway going up or down, again, the down fall to a religion mind. How is it nice to say to someone - are you going up or down. There is no up or down probably, if so where is the physical proof, just as in court of law, where is the evidence. Do not show me a book written about it. or hear say from what you have been told. Where is the proof?


• Indonesia
25 Jul 07
I'm moslem so my favourite stories are about muhammad and sulaiman. I love muhammad because his patience and his personality. and about sulaiman I like it because he can talk to animals.

• Pakistan
9 Jul 07
My favourite from the Quran is the story of prophet Yousuf (Joseph). It shows how The God (Allsh) has control over everything and everybody. And how He alone can turn those who seemed to have completely lost into the total winners and those who were thaught to have gained into total loosers. As I understand you have a translation of the Quran, I would request you to go through it too. It begins in the second half of the 12th chapter.