Filipinos watch out...Do you like lechon?

Philippines
June 26, 2007 1:12am CST
Well, lechon is very famous here in our city (Cebu City). We like lechon so much. In special occasions, people here will prepare food and lechon is included of course. Pinoys what do you think?
3 responses

• Philippines
26 Jun 07
well that is a common special food. without it in big occasions like weddings, baptism, fiesta, debuts, birthdays, etc. it will feel like something is missing. but that was before. not all people can afford lechon now as it is expensive. unlike before people really make it a point that lechon should be served on every occasion. the part that i only crave for in a lechon is its crispy skin other than that i do not really eat anything else from the lechon.

• Philippines
26 Jun 07
me too, only the skin, but guess what?...I also like the paksiw of it...

• Philippines
27 Jun 07
yes "lechon paksiw" is one of the my favorite filipino food too. i like the sweetness of its sauce together with the skin cooked in it. also this is the only time i eat the meat. :)

• Philippines
28 Jun 07
lechon in cebu?! the best! i tried lechon from other places but so far, lechon from Cebu is really the best...yummy! =)

• Philippines
15 Oct 07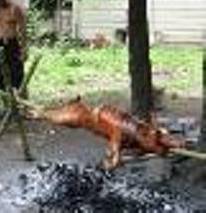 Yes, lechon or roasted pig is very delicious and it is almost always available during fiestas or other occasions. In Manila, there is an area where they sell lechon, there are many stores. Sometimes, there are lechon for sale in the markets.