Who do you resemble more, your mother, father or your grandparents?

India
June 26, 2007 8:32pm CST
People always have some resemblances with their parents. Boys generally resemble their mother and girls generally resemble their father. May be, in some cases the resemblance is greater with the grand parents... Who do you resemble more? I resemble my father. I have several properties of him...And thank God, i got his intelligence which matters most...
4 responses

• United States
27 Jun 07
I carry the dominate genes in my family, I look just like my mother, spitting image. When I married a Greek man I expected our daughter to have several of his dominate features, like his other children. (Dark Dark skin, Black hair and eyes etc) Well, my genes won out! My daughter is the spitting image of me and my mother. She has the Irish eyes, hair and skin. Can't even tell she is half Greek.

• United States
27 Jun 07
I have more of my father's features. My oldest son looks just like me and my youngest daughter looks just like her father so I think what you said is true in a lot of cases. My mom looks just like her mother though. My second son looks almost identical to his father's baby pictures. My third son resembles his paternal uncle who in turn took after his maternal grandfather. My youngest son is a mix of both of us.

• China
27 Jun 07
I think I resemble my father more,from outside look to character,I look like my father,but actually,my mother is more beautiful,haha!

• Philippines
27 Jun 07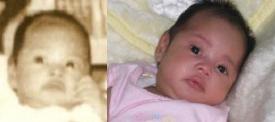 people say that i resemble my dad more than my mom. i think it's true that girls usually resemble their fathers. my daughter, for one, looks very much like her father. i don't think she got anything from me. lol!