16 Candles: Best Teen Flick of 1984?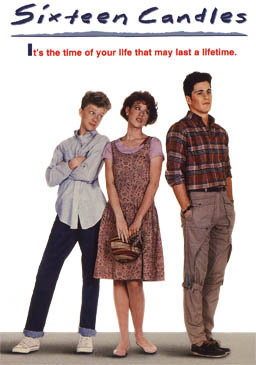 United States
June 28, 2007 5:48am CST
Long before the Brat Pack took over Hollywood, 16 Candles was a summer sleeper in 1984. Starring Molly Ringwald, Michael Schoeffling, Anthony Michael Hall, Gedde Watanabe and a very young John Cusack, this was one of my all time favorite teen flicks. What's your all time favorite teen flick? Have a favorite scene from this movie? Mine has to be when Jake gets the note off the floor ... of when Anthony Michael Hall gets stuck under the glass table.
4 responses

• United States
28 Jun 07
This was always one of my favorites too, although I haven't seen it in forever. I'm not sure if I really have a favorite scene, although I really enjoyed these, especially the one where he gets stuck under the table. It has been so long since I have seen it, I think I'll put it on my list to watch again soon.


• United States
30 Jun 07
I haven't seen this whole movie straight through...but I have seen the whole movie in bits and pieces at a time lol. I know one day I need to watch the whole thing from beginning to end, and I will get around to it! :) I thought it was a very cute movie with lovable characters and great humor. Not ot mention the HUNKY love interest! lol. I'm not sure I would say it is 'the best' teen flick...but it's ALWAYS difficult for me to name the best thing in any catagory. I always end up listing 3 or 4 and that doesn't even go over well with me! lol.