What group do you belong when you are in school?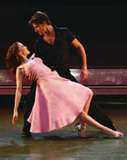 Philippines
June 28, 2007 6:30am CST
=hi guys! just wanna ask when you are in school whether in highchool or college, what group do you belong? =me, i belong in the dance troupe, i was a member of the dance group since i was elementary until college. i was also a gymnast, a majorette the one here in the Philippines that uses skills to rotate the baton sticks all around using fingers, i was also a ballet dancer, a hawaiian dancer and a folk dancer, the bottom line of this is that i was very active in music especially dancing and that did help me until now, and even my 2 daughters are music lovers. my first daughter (16 yrs.old) is an active member of their dance troupe in her university, she dances, acts, sings, play music instruments and even compose songs. she is also sood in ballroom dancing. my second child (10 yrs.old) was once became the leader of their dance group activity andim so happy for them. how about you, what group are you in? now?, or before? and whats your story?
8 responses

• Philippines
28 Jun 07
i do dance group and once competed in showdowns. :) glad that they had your interest of that..like daughter like mom :)

• Philippines
28 Jun 07
=wow your great hehe. thanks for dropin by and sharing.

• United States
6 Jul 07
When I was in high school, I was a member of the basketball, baseball, and football teams. I wasn't what you could call popular, but I had many friends.

• Philippines
14 Jul 07
Your atlethic thats good, thanks, have nice day...

• United States
28 Jun 07
In high school, I mostly participate in "nerd" type activities. I'm in the school's speech program, which would make me a speech nerd, and I'm also in band, so that makes me a band nerd. (Twice as much so because I play Tenor Sax *and* the flute) and I'm also in choir as a soloist, so that makes me a choir nerd. So I'm just basically a nerd all over. I'm also in charge of the school's website, so that's another nerd activity I happen to take part in. So I basically have a full day-to-day schedule.

• Philippines
28 Jun 07
You make me laugh of that nerd activity hehehehe, maybe you have a good voice and you really love music. Thanks for sharing, have a nice day...

• United States
28 Jun 07
I was homeschooled through high school - but I was involved in 5 dance classes a week, art classes, 4-H Club & Teen Council, Horse back riding, voice lessons, theater, boxing and kickboxing. In College I am a member of Phi Theta Kappa and I'm trying to start an animal rights group on campus.

• Philippines
28 Jun 07
Wow cool, its kinda atlethic person you are. Thanks for dropping by' have a nice day...

• India
28 Jun 07
During my school days I used to take part in drama mostly. The subject of the dramas were mostly related to current issues, educative topic, family related matter, related to indian gods and their teachings etc. Drama was my favourite subject. Whenever we had to play any play, my name was always there in the list. I won many prizes for this also. But now I am in service and this practice has left. Sometime I guide the children for small plays on various subject. Now the subject has been changed with the modernisation. TV, DVD etc have taken place and interested people are also very less. Most of the children are interested in dancing only. Children find more easy and interesting dancing part. This is the demand of time and we must mould ourselves as per requirement.

• Philippines
28 Jun 07
=yeah your right the attention of the children now a days are more on tv's dvd's etc. how i wish we could turn back time and enjoy watching drama plays. thanks for answering, good day!

• India
7 Aug 07
I formed a hobby group in the school and I was the secretary of the club. We used to conduct exhibitions once a month and used to participate in other school's exhibitions.

• Philippines
20 Jul 07
i belong to a group of student journalist. we always see to it that we get hold of the latest buzz inside our school. do interviews. cover live sports events, presswork overnight at the printing press and layout everything for the paper. its a difficult job but it worth seeing our names printed at the newspaper and read by the students.

• China
29 Jun 07
I like writting,everyday i spend mcch more time on it